The Ketchikan City Council meets on Thursday, and on the agenda are four ordinances delayed from the last meeting that call for raising utility rates.
The city and Ketchikan Public Utilities 2016 budgets were built on the assumption that wastewater, garbage, electric and water rates would go up. The Council approved both of those budgets in December without challenging those assumptions. But, city code requires that the Council also approve separate ordinances for rate increases.
The ordinances would increase wastewater fees by 8 percent; garbage collection fees by 10 percent; electric rates by 5 percent; and water rates by 8 percent.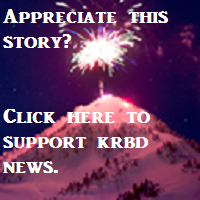 If the ordinances are approved in two readings, the average city resident would pay about $14 a month more. The first vote is Thursday, and a second vote will be scheduled if the measures pass.
Also on the agenda is an amendment to city code regarding alcoholic beverages. The change would include marijuana establishments under the section related to operating hours, with the same closing time as bars.
The ordinance also gives the city review power for marijuana license applications.
Community agency grants also are on up for consideration on Thursday. The Community Grant Committee has recommended a total allocation of $360,400 to 17 agencies.
The nonprofit agencies and their corresponding grants are:
Alaska Small Business Association: $8,000
Love In Action: $10,000
Big Brothers Big Sisters: $9,000
Rendezvous Senior Day Services: $27,500
Southeast Senior Services Care Coordination: $49,500
Southeast Senior Services Food and Fuel Program: $22,900
Historic Ketchikan: $30,000
Ketchikan Committee for the Homeless (PATH): $47,000
Ketchikan Youth Court: $11,500
Ketchikan Area Arts and Humanities Council: $49,000
First City Players: $13,000
Women in Safe Homes: $16,500
Alaska Legal Services: $18,500
First City Homeless Day Shelter: $10,000
Southeast Alaska Independent Living: $14,000
Ketchikan Wellness Coalition: $13,000
Ketchikan Boys and Girls Club: $11,000
Thursday's Council meeting starts at 7 p.m. in City Council chambers. Public comment will be heard at the start of the meeting.