Ketchikan's Women in Safe Homes has been on probation since last fall after a site visit by the state Council on Domestic Violence and Sexual Assault found the emergency shelter out of compliance with various regulations.
WISH officials, though, say there was no warning from the state council that there were any problems. In fact, just a few months prior, the shelter had received notice of compliance, praising the program for following regulations.
In summer of 2015, a representative of the Alaska Council on Domestic Violence and Sexual Assault conducted a site visit of Ketchikan's emergency shelter.
Women in Safe Homes board member Joel Jackson said that representative also attended a WISH board meeting.
"At that board meeting, several members of the board asked if they had any questions or concerns or anything they wanted to share with us, and they did not," he said.
In fact, a letter from CDVSA dated June 4 announces that the WISH program complied with all regulations. It states that "The review of your submitted policies and procedures reveals that WISH is operating in a professional and responsible manner, providing a high level of quality service to residents in the Ketchikan community and surrounding areas."
About three months later, WISH was placed on probation by CDVSA for not following policies and procedures.
So, what happened in those three months? Jackson said the board has asked that question, too, and received no clear answer.
CDVSA Executive Director Lauree Morton did not respond directly to requests for an interview for this report. She instead emailed statement through Alaska State Troopers spokeswoman Beth Ipsen.
In the statement, Morton writes that the agencies are working together to get WISH into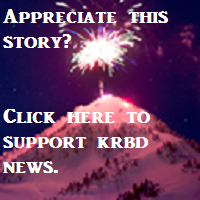 compliance.
The September site-visit report from CDVSA noted procedural issues, such as excluding clients who are under the influence, a lack of cooperation with other local service agencies, a violation of record-keeping regulations and a lack of training for board and staff.
WISH board chair Karla Reinhardt said that WISH disagrees with findings in the report.
"And we tried to appeal, and were told we could not appeal," she said. "And we feel like we were not, either the board or the staff members were not given the opportunity to address the concerns. If we could have had open dialogue from the beginning, a lot of this could have been avoided."
But, with CDVSA holding some large purse strings, WISH has little choice but to work through remediation steps that the state council has laid out, such as establishing a planning process, improving training procedures, establishing operating agreements with other service agencies and following a grievance process for employees who have been let go.
Jackson said many of those steps have been accomplished. Some were done before WISH was put on probation. The planning process, for example, took place last spring with assistance from a Foraker Group expert.
"And that happened before they even wrote this out as a problem," he said. "So, that's why it's hard to understand where this came from, because that information was available to CDVSA in advance of this report."
Among the issues noted in the documents is a practice at WISH of excluding people if they are under the influence of alcohol or other substances.
The CDVSA report states that people in a domestic violence situation often have co-concurring conditions, including substance abuse and behavioral health issues. According to the state council, such conditions shouldn't be used as a reason to keep people out of a shelter.
WISH Board Member Jaimie Palmer said that Ketchikan's shelter does not reject people because they are under the influence of alcohol or drugs. She said advocates who notice a client is somewhat inebriated will counsel the client and assess their condition.
"And if the advocate deems they are OK and safe to stay, then they would be able to stay in the front of the shelter," she said.
Those clients can go into the main part of the shelter after they are completely sober.
People under the influence to a level that they are a danger to themselves or others are referred elsewhere, either to the hospital or to law enforcement, but Palmer said, when they are able to safely return to the shelter, they will be admitted.
Palmer admits that there was a time period when an employee interpreted the policies incorrectly.
"We had a new shelter manager fresh out the gate. She needed that training, and she took it her own way. She's no longer working there," Palmer said. "She was let go pretty quickly after those things were brought to light."
During the nine-month probationary period, which lasts through June, Women in Safe Homes will continue to get funding from CDVSA. But, it's through a monthly reimbursement. Jackson said that's been challenging for the nonprofit agency.
"As a small agency with limited resources, that makes it very difficult to operate," he said. "It also puts at jeopardy other funding, because funders will look at that and go, 'Why are you on probation?'"
That's exactly what happened at a recent Ketchikan City Council meeting. The Council approved a list of grants to local nonprofit agencies, but delayed the $16,500 grant to WISH, citing its probationary status.
WISH officials plan to attend the next City Council meeting to give a presentation and answer any questions about the shelter's program, policies and procedures.
Jackson said the WISH board hopes to be taken off of probation sooner than the nine-month time frame set by CDVSA, so that shelter officials can put their time and energy toward other projects.
"WISH is trying very hard to raise money for a new shelter and has other things that we need to work out, and this is taking an inordinate amount of staff time and obviously the board's time, as well," he said. "(For example) the fact that we're talking to you, when we could be talking about fundraising events and things that are more positive."
WISH serves southern Southeast Alaska, providing emergency shelter for people in Ketchikan, Saxman, Metlakatla, and Prince of Wales Island, and it also takes clients from Wrangell and Petersburg.
Cover letter from CDVSA ED Lauree Morton