Friday morning at Fawn Mountain Elementary School, six students sat in anticipation. They were preparing to spell in the Ketchikan School District spelling bee.
"This word comes to us from Latin. Nasal."
"Nasal. N-A-S-A-L Nasal."
Gregg Poppen pronounced each spelling word. When asked, he was also able to provide the language of origin or definition and any alternate pronunciation, as well as use the word in a sentence.
The nerves of each of the spellers manifested in a number of subtle habits,  tapping their fingers on their thighs, twiddling thumbs and twirling their hair. Three boys and three girls competed, one from each school in the district up to eighth grade.
The competition was comprised of rounds with each student spelling one word per round.
Competitors were quizzed on words such as unity, zenith, pretzel, mattress, chutney and apricot.
Eventually the words frolic, scrabble, sonata and nightingale stumped spellers,  and after about 40 minutes, two remained: Kaelyn Cadiente, an eighth-grader from Ketchikan  Charter School; and fifth-grader Tiernan Johannsen, from Houghtaling Elementary.
The two had a few quick rounds, and then came quesadilla to Kaelyn.
"C-A-S-A-D-I-L-L-A"
"Quesadilla is from Latin to Spanish and it starts with a 'Q', quesadilla."
Tiernan correctly spelled spherical to end the round, but still needed one more to clinch the win. "If you spell this correctly you are the district champion. If you don't we'll have another round. Magnolia. M-A-G-N-O-L-I-A. There's a champion."
Tiernan says his dad helped him study, but he spent a lot of time by himself with lists of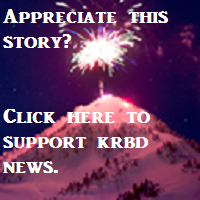 words. "How I do spelling, I basically just look at the word and I try to memorize it and how I got those words was just I remember on the paper. Nightingale that Hannah had, I remember that in the old English study list. It's fun."
He expects to celebrate the win at home with maybe a little dessert and a movie, but after that it's right back to studying for the state spelling bee in Anchorage. The Alaska State Spelling bee will be on Tuesday, March 22nd at the Performing Arts Center in downtown Anchorage.
Full results:
1st place:  Tiernan Johannsen -grade 5, Houghtaling
2nd place:  Kaelyn Cadiente – grade 8, Ketchikan Charter
3rd place:  Hannah Marr – grade 8, Schoenbar
4th place:  Dylan Dolsky – grade 6, Tongass School
5th place:  Trinity Perkins – grade 6, Fawn Mountain
6th place:  Kai Biagi – grade 6, Point Higgins