The newest version of a proposed boroughwide tobacco tax passed its first hurdle Tuesday when the Ketchikan Gateway Borough Assembly introduced an ordinance calling for an excise tax on cigarettes and other tobacco products.
The Assembly also talked about Gravina Access, and a likely announcement from Gov. Bill Walker later this month.
The proposed tobacco tax would charge $2 per pack of cigarettes, or 50 percent of the wholesale cost of other tobacco products, including e-cigarettes. The big difference between this proposal and earlier ones is that it needs not only two affirmative votes by the Assembly, but also would need to be ratified by voters.
The Assembly was split in its support of the tax. Four voted in favor: Bill Rotecki, Felix Wong, Stephen Bradford and Alan Bailey.
Rotecki sponsored the measure. He said his intent is not to punish adults who smoke, but to reduce the number of young people who take up the habit.
"My apologies to the people who are well over 18 – it's not my intent to fleece you,"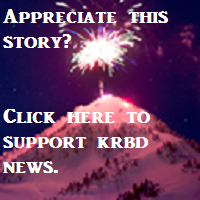 he said. "My hope is that this will reduce teen smoking and help those individuals not just with health, but also with their finances."
During public comment, Kevin Gadsey of the Ketchikan Wellness Coalition told the Assembly that national studies show a drop in youth smoking rates that correlate with increased cost of cigarettes.
Wong said that was his experience when the price went up.
"Where I lived in Singapore, they raised the cigarette costs, and that actually had me thinking about, if I were to consume a pack within two days, in a month what could I get?" he said. "That actually helped deter me, and I never looked back and never smoked since then. So, I think this measure is effective."
Three Assembly Members voted against the tobacco tax: Glen Thompson, Mike Painter and John Harrington.
Thompson said he opposes taxes that target certain segments of the population.
"If you're going to do this, why don't we just ban them outright?" he asked. "I don't know if that's legal or not, but maybe we should make a $50 a pack tax. Then nothing will get sold in this town; it'll all be brought in by black market. This is just misguided policy at best. There are so many flaws with this whole idea of a sin tax that it needs to go down in flames."
Since it did pass, the ordinance will come back to the Assembly March 7 for a public hearing and second vote.
If approved and ratified by voters, proceeds from the excise tax would be split between the city and borough governments, as long as the City of Ketchikan doesn't implement its own tobacco tax.
Fifteen percent of the borough's portion of the tax would be used to fund tobacco cessation programs. The rest would go toward grants for community nonprofit agencies.
The proposal would not place any restrictions on how the City of Ketchikan could use its portion of the tobacco tax.
Also Tuesday, Borough Manager Dan Bockhorst told the Assembly that he met recently with state Department of Transportation officials about the Gravina Access project.
Bockhorst said Gov. Bill Walker plans to come to Ketchikan on Feb. 29th to give an update on how the state will use the remaining funds that had been earmarked to improve Ketchikan's access to Gravina Island.
"My expectations are positive that we're going to get some positive support in terms of our objectives of how we had proposed the use of that money," he said. "I don't know details at this point in time, but I've had positive conversations with state officials on the matter."
The original appropriation, which was meant to build a bridge, was $364 million. Most of that money was used on projects elsewhere in the state after then-Gov. Sarah Palin canceled the bridge in 2008.
About $96 million remains in the project account.
Previously, DOT officials proposed using $23 million of that for improved access to Gravina. The borough has strongly encouraged the state to use all of the remaining funds on the Ketchikan project.