Linda and Johnny Gilson were chosen earlier this year to receive the Ketchikan Chamber of Commerce Outstanding Community Service Award for their many years of volunteer work with First City Council on Cancer.
The couple wasn't able to attend the awards banquet in late January, so they came to this week's Chamber lunch to pick up their plaque during a special presentation.
Jacquie Meck presented the award with a brief history of the couple's two-decade involvement with the local nonprofit, which provides financial assistance to residents undergoing cancer treatment.
The primary fundraiser for First City Council on Cancer is its annual St. Patrick's Day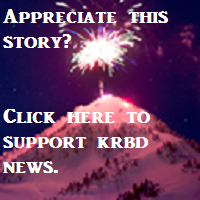 auction, which Meck said the Gilsons have spearheaded.
"For their tireless efforts to support community members during their time of need, and for the joy that they share as they carry out their efforts, the people of Ketchikan are extremely grateful," Meck said,
After accepting their award, Johnny Gilson took advantage of having an audience.
"While we're at it: On your table, you're going to find some raffle tickets for First City Council on Cancer," he announced.
Linda Gilson told the audience that the FCCC's success over the years has been a community effort, and she thanked everyone for supporting the nonprofit's mission.
"You're all part of this team," she said. "When it comes together, it's amazing how many people show up to help us."
The Gilsons are retiring from their work with the council. Linda Gilson said they're looking for some active volunteers to take the reins.
This year's St. Patrick's Day Auction is March 12 at the Ted Ferry Civic Center.