Sea cucumber fishery permit holders will decide this summer whether to reduce their self-imposed tax from 5 percent of the ex-vessel value to 3 percent.
The lengthy election process opens on March 1st, and lasts through June 6th. Southeast Alaska Regional Dive Fisheries Association Executive Director Phil Doherty said the election is conducted by mail, and he's about to get the first round of ballots out.
"And they're all sitting here on my table, and I'm going to have to start stuffing them pretty soon," he said.
The ballots will go to all 256 sea cucumber permit holders, whether or not they actively fish. They have 30 days to respond by mail. In mid-April, Doherty will host a public meeting to explain the proposed tax change, and answer any questions.
Then, a second round of ballots will be sent out, again to all permit holders. But, that doesn't mean they get to vote twice.
"You only get to vote once," Doherty said. "If you vote twice, we'll accept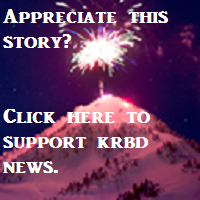 your first ballot, and you don't get two votes just because there's two ballots."
Doherty said that provision was put into the association's bylaws to make sure the fishermen got every opportunity to weigh in on a change to their self-imposed tax.
"This is important to the association; it doesn't happen very often," he said. "I think the last change happened back in 19….. about 2000. So, it's been a long time since we've gone through this process."
Revenue from the tax goes to the state Department of Fish and Game to fund management of the fishery. Doherty said it's a unique arrangement, but it's worked well so far.
He said the argument in favor of reducing the tax is that there's plenty socked away in reserves.
"So, we have enough money in the bank right now that the fishermen feel they can lower their tax and still do everything that they need to do in terms of running the association and getting enough money back to the state to do what the state needs to do to manage the fisheries," he said.
Doherty estimated that the sea cucumber dive fishery has an annual ex-vessel value of about $8 million.
To pass, he said the proposed tax change will need approval by a majority of all permit holders, not merely a majority of those who return their ballots. So, not returning a ballot would be the equivalent of a "no" vote.
With 256 permit holders, that means at least 129 must vote "yes."
Doherty said the association should have election results counted and sent for certification by the end of June. If approved, the new tax would be in place before the October opening for sea cucumbers.