The U.S. Forest Service will again offer a summertime Youth Conservation Corps job opportunity in Ketchikan for people ages 15 through 18.
According to the Forest Service, the six-week program will allow six young employees to work in the Ketchikan-Misty Fiords Ranger District's fisheries, recreation and timber programs.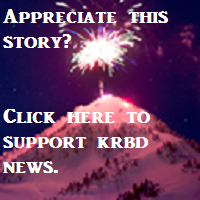 More specifically, crew members will help maintain a remote fish ladder; conduct field surveys for a watershed restoration project; conduct timber-stand reconnaissance; help maintain campgrounds at Ward Lake and remote trails in Misty-Fiords National Monument; and help staff the busy Southeast Alaska Discovery Center in downtown Ketchikan.
According to the Forest Service, applicants should be prepared for hard physical outdoors work under potentially adverse weather conditions and rough terrain.
The application period opens Tuesday, March 1st, and lasts through the month. The six-week program starts June 13th. Housing will be available for participants who live outside of Ketchikan.
Here's a report from last year's YCC experience.
Those interested in applying can go to:  http://www.fs.fed.us/sites/default/files/media/2015/14/fillable-ycc-application.pdf.
For more information, contact Jon Hyde at 907-228-4137 or jmhyde@fs.fed.us; or Diane Olson at 907-228-4105 or dianelolson@fs.fed.us.