Eleven Ketchikan residents participated in Tuesday's House Finance Committee teleconference related to proposed state budget cuts.
People gathered at the Ketchikan Legislative Information Office waited through testimony from the Mat-Su area, Kenai, Kodiak and Homer before it was their turn to address Alaska's House Finance Committee members.
First up was Rodney Dial, who is an Alaska State Trooper but stipulated that he is speaking for himself, not as a state employee.
Dial asked lawmakers to cut more non-essential services before implementing any kind of tax. He specifically called for cutting public broadcasting, limiting welfare, reducing Medicaid and cutting preschool funding. After all that has been cut, if a tax is needed, he said it should be a sales tax rather than an income tax.
"My community has a high sales tax and many I know still support a sales tax over an income tax due to the necessity that all Alaskans share in the cost of government, not just the half that work," he said.
Sue Pickrell, the elder services coordinator with Ketchikan Indian Community, asked legislators to restore funding for senior benefits. She said KIC doesn't receive state funding, but many of the elders she works with do. She said most of them lived a subsistence lifestyle until retirement.
"Many didn't pay into social security or state unemployment. They wanted to live out their lives in the land they were born," she said. "Our elders worked hard but they don't get guaranteed insurance or a state retirement. They can't and won't move away as suggested by Wasilla Rep. Lynn Gattis. If state benefits are reduced, many of our elders will be choosing between food or toilet paper."
Bill Rotecki, a member of the Ketchikan Gateway Borough Assembly, was speaking as an individual when he asked lawmakers to restore funding for public broadcasting.
Rotecki also asked legislators to fund University of Alaska outreach and research programs, which he said help strengthen and grow industries in the state.
"You can't cut your way to prosperity," he said. "Prosperity comes with growth in commerce and industry. It makes no sense to zero out one of those programs that's actually helping in building the road to the future."
Janalee Minnich Gage, a member of the Ketchikan City Council, also spoke as an individual during her testimony. She asked lawmakers to implement an income tax before cutting funding to services.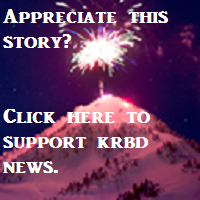 "By making these cuts, you are handing lifelong Alaskans a blue ticket out of Alaska and away from their homes, culture and family," she said. "By eliminating public radio, you are putting outlying communities in the dark and without the ability of a lifeline and a way to communicate with their governments and the Emergency Broadcasting System."
Joe Williams, who has served as the mayor of Saxman and the Ketchikan Gateway Borough, said it's time for Alaskans to start paying a personal tax to help fund government, and he stressed the need to not wait. He added that Southeast Alaska residents have paid a toll to use the Alaska Marine Highway for decades.
"It's time now that Southcentral Alaska be charged the same user fee to use their highways. Take a closer look at that," he said.
Michelle O'Brien is president of the Ketchikan School Board and serves on the Alaska Public Broadcasting Commission. She said the state's public broadcasting network has been working hard to reduce costs and run as efficiently as possible, because stations knew more cuts would be forthcoming. But, she said, the proposed 100-percent cut is too much.
"What the current proposal does is pretty catastrophic for small rural areas, and we were hoping for some restoration of some measure of that funding," she said.
As school board president, O'Brien asked lawmakers to maintain the current level of education funding.
85-year-old Edward Baker spoke in favor of maintaining funds for senior services.
"I think I've contributed as much as I can contribute. I think seniors should be given consideration," he said.
Licha Kelley-King of Rendezvous Senior Day Services also spoke in support of restoring funding for programs that help older Alaskans. She said Rendezvous and other day-service programs throughout the state allow seniors to remain in their own homes longer.
"The people that come to us have a warm place to come; they have loving people that take care of them during the day. We serve a warm, healthy lunch, a snack, and most of the time we send them home with a little bag of something because most of those people will go home with nothing to eat for dinner," she said.
Kim Blunt also spoke in favor of restoring funds for senior services: "I just came from the senior center, who supplied us with a meal. Most of us get one a day. And we get some friendship, interaction, we play some games, and we keep alive. We're not home alone, sitting until we die."
Terry Whyte, a local teacher, spoke in favor of restoring funding for public broadcasting. She said public radio in Ketchikan is an educational tool, as well as a source of information and entertainment.
"If public radio is cut from our state budget, our communities lose. We lose the ability to share our joys, sorrows, news, student achievements and sense of community," she said.
Local attorney Loren Stanton was the last Ketchikan resident to testify during the hearing. He stressed the need to maintain cuts to the proposed Alaska natural gas pipeline project, and added that the state should also cut tax credits for oil companies rather than taking a portion of the Alaska Permanent Fund earnings.
"If you take $1,000 from each person's Permanent Fund (Dividend), you are essentially giving it to the oil companies. If you take $500 million, (you give) $500 million," he said. "Do that math. It's pretty close."
One of the proposals to help balance the state's multi-billion-dollar budget deficit is to reduce the amount of the PFDs handed out to Alaskans, and take what remains for state government expenses.
The huge budget deficit is the result of extremely low oil prices, leading to reduced oil-tax revenue.
In the interest of full disclosure: Terry Whyte, who was quoted in this report, is married to KRBD's Development Director, Stuart Whyte. Proposed cuts to public broadcasting would directly affect KRBD's finances.