Ketchikan High School recently wrapped up its regular season basketball games.  Throughout the season, there was another team working alongside the players: the Kayhi Media team.
The team is four Kayhi kids, and their let's call him coach, Bill Whicker. " This crew is amazingly dedicated. They're here at 8:30 in the morning on time, and they stay until 11:00 at night."
Over the course of the Clarke Chochrane Christmas Classic, the team produced 24 basketball games.  "Multi-camera shoots in 720P. So it's pretty cool."
Three camera men and women are court-side filming, all of the cameras feed to a big monitor in a small dark room on the second floor overlooking the gym. Next to the big TV, are two laptop computers,  a control board, lots of wires and Austin De-Witt Williams. "I'm on board because I'm the most experienced out of us. Mostly Whicker doesn't want to be micromanaging us"
De-Witt Williams watches all the camera views, chooses the best angle to broadcast, and updates the scoreboard that overlays on stream.
Over the course of the tournament, Whicker was in and out of the control room and for the most part the students were on top of the action, but Whicker didn't hesitate to help them improve.
"Bad camera shot, Austin"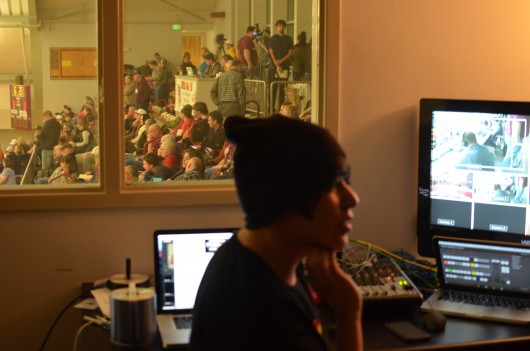 The tournament was the first time the media team charged for their product: a live stream. For $3, viewers could watch all day from anywhere with an internet connection. "We make enough money to pay students. Looking for ways to sustain the program. They are not getting rich doing it, but they are learning a lot."
A few years ago, this kind of learning was integrated into a class at Kayhi, but the equipment became outdated and the teacher was no longer available.
The program came back to life a few years later with new grant-funded technical equipment.  The kids are learning from real experience.
This year, the Kayhi Media crew began working with Ketchikan Public Utilities instead of alongside them. The partnership offers the students experience with professionals and KPU has a lot more camera angles.
"Like if you'll notice camera three zooms in a lot more on players as they move along. That's what KPU wants."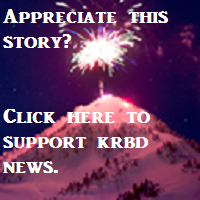 Whicker said the live stream is a service that many appreciate. "Folks that can't get to the game for whatever reason or they're travelling or whatever it gives them a way to watch their kids or still support us."
The Kayhi Media team and KPU have plans to hopefully expand their coverage to include soccer, baseball, softball and football.