The Ketchikan Gateway Borough Assembly spent about an hour talking about a proposed tobacco tax Monday, but then postponed taking action on the issue until the next meeting.
The decision to postpone came about four hours into Monday's meeting, which started with nearly 90 minutes of public comment. Most of that public comment focused on school funding, which was not an action item on Monday's agenda.
The public comment was prompted by a Ketchikan School Board decision to not fund the popular Kanayama Exchange Program and all school activities, citing a need for more funding from the borough.
High school, middle school and elementary school children spoke to the Assembly, along with parents, coaches and teachers. Most of the public comment on that topic supported funding for activities and Kanayama.
Katie Pearson is an eighth-grader at Schoenbar Middle School. She said activities teach teamwork and problem-solving skills. And, she said, there are other benefits, too.
"In high school, you can also do an after-school sport and use it as a PE class, so that you can take another elective. I was kind of hoping to go for that, because freshmen are only allowed one elective. Some of the electives I want to do are Spanish, small engines, art, band, maybe even some French."
Teacher and coach Rick Collins said he has heard the argument that the School Board is just posturing, and using activities as a negotiating tool. But: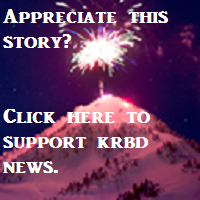 "The reality is, we've cut, we've cut, we've cut, we've cut. Cut so far, and now we're looking at cutting it more. Really, what's next? Are we going to cut all the English at the high school?"
The draft school district budget does cut some teaching positions, as well. Collins added that the Assembly may have cut property taxes too much when it lowered the mill rate from 7.5 to 5 several years ago.
A couple of speakers asked the Assembly to hold the line on school spending. Agnes Moran suggested that if the Assembly wants to help fund activities or Kanayama, it should do so through restricted grants, to make sure the money goes where it's intended.
And, she said, there should be discussion of a limit on activities offered through the schools, in order to limit the fundraising requests.
"I think you should put a requirement in there that it's time for the school district to sit down with the community and start looking at what is sustainable as far as activities go."
Later, Assembly Member Glen Thompson suggested that the borough place all property taxes and federal Secure Rural Schools money into one fund, and use that for schools. If the district needs more, he said, the public should vote on a mill-rate increase.
The Assembly voted 6-1 to direct the borough manager to bring back an ordinance spelling out how that would work. Assembly Member Bill Rotecki voted no.
Much later in the meeting, the Assembly took up the tobacco tax issue. Two people spoke during the public hearing, both in favor of the ordinance.
The proposal calls for a tax of $2 per pack of cigarettes, or 50 percent of the wholesale cost of other tobacco products. Proceeds would be split between the city and borough governments.
In the proposal, 15 percent of the borough's portion would go toward tobacco cessation programs. The rest would go toward grants for community nonprofit agencies.
Rotecki, who sponsored the measure, said the whole point is to reduce youth smoking rates, and hopefully save some lives in the future.
"Seems like there's some concern about where the money would go. Frankly, I don't care. Because to me it's a matter of: Adults who don't import their cigarettes from elsewhere are going to pay a few more bucks. How does that compare to four or five kids dying prematurely and being less functional. Dying."
But, Assembly Member Alan Bailey, who previously supported the issue, said he can't justify charging a tax on a small group of people for the benefit of community nonprofit agencies. He said he won't support the proposal unless 100 percent of the tax goes toward smoking cessation programs.
Rotecki suggested an amendment that would do that with all of the borough's half, but that amendment failed with only Rotecki voting yes.
Assembly Member Glen Thompson, who has strongly opposed a tobacco tax every time it's been brought up, suggested another amendment that eliminates any revenue sharing with the City of Ketchikan. But, before a vote on that took place, Assembly Member John Harrington asked that the issue be postponed.
The motion to postpone passed 4-3, with Thompson, Mike Painter and Stephen Bradford voting no.
Also Monday, citing the late hour, the Assembly postponed action on a resolution that sets a fee schedule for the use of borough facilities by the Ketchikan School District. That issue already had been postponed once, from the Assembly's Feb. 1 meeting.
The next Borough Assembly meeting is March 21.