Southern Southeast Alaska residents testified Tuesday during a Senate Finance Committee hearing on the budget. Those who spoke supported restoring funding for public broadcasting, revenue sharing and senior benefits.
Of the 29 people who testified from Ketchikan, Wrangell and Petersburg, 22 opposed the 100-percent cut to state funding for public broadcasting proposed in the Senate. Nobody spoke in favor of that cut.
Most asked the committee to restore funding to the level proposed by Gov. Bill Walker. His budget called for a 27 percent cut to public broadcasting on top of last year's 17 percent cut.
Among the speakers who support public broadcasting was Christie Jamieson of the Wrangell Chamber of Commerce. She said their public radio station, KSTK, provides essential services, including community announcements, news and emergency alerts. She said a 100-percent cut would make the station ineligible for federal funding, and Wrangell isn't big enough to sustain the station through local contributions alone.
"If small stations like KSTK are unable to survive, it would cripple the statewide news network. Stations large and small throughout the state contribute their local and regional news stories to APRN, which are then distributed statewide. Without reporters across the state contributing to the system, news that impacts all Alaskans is not heard."
Other speakers asked committee members to maintain revenue sharing: state
payments to municipalities. Ketchikan's Assistant City Manager David Martin said if revenue sharing is cut, the city will have to consider raising taxes to cover the shortfall.
"In addition to city taxes, the residents of the city also pay a borough property tax of 5 mills and a borough sales tax of 2.5 percent. The total property tax paid by city residents is 11.7 mills, total sales tax 6.5 percent. The city is not in the best position to raise taxes to offset the loss of revenue sharing."
Jeff Jabusch, Wrangell's borough manager, also expressed concern about cuts to revenue sharing. If it is cut, he suggested offsetting that reduction by removing the state's mandatory property tax exemption for seniors, especially those who are financially well off. He said that would allow municipalities to collect more revenue through local taxes.
Some seniors who spoke, though, asked that the property tax exemption remain in place.
Melvin Charles in Ketchikan supported increased taxes on alcohol and tobacco, and said an income tax should be implemented to help pay for schools.
"The majority of our commercial fishermen who come up to Alaska are non-residents. All their employees are non-residents. Our stores are (owned and operated by) people from all over the world and not even residents of our state of Alaska. Each and every one of them should be paying taxes."
Many other speakers also said they preferred a state income tax over a sales tax, and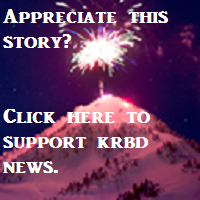 before any use of the Alaska Permanent Fund earnings.
Sunny Rice in Petersburg works for the University of Alaska Sea Grant program, but said she was speaking for herself. She said proposed cuts to the University of Alaska system will affect outreach and extension services, in addition to students.
Rice said that includes research into paralytic shellfish poisoning and unusual mortality events among marine animals.
"The University of Alaska also reaches out to the commercial fishing industry and the seafood industry through programs called the Alaska Seafood Processing Leadership Institute, which trains young seafood processors who might be taking over processing facilities in their communities; and the Alaska Young Fishermen's Summit, which trains future commercial fishermen."
Other speakers asked committee members to maintain funding for public schools, nonprofit organizations and the Alaska Marine Highway System.
The Alaska House also is grappling with budget issues, and is working on its own version of the state's operating budget.
The state is facing a multi-billion deficit brought on by low oil prices. Most of the state's income is through oil tax revenue.
Full disclosure: KRBD's finances will be directly affected by cuts to public broadcasting.