In the midst of budget season, at Wednesday night's Ketchikan School Board Meeting the Board nearly avoided the topic and gladly turned attention to the accomplishments of Revilla Alternative School, and a new math curriculum.
Each school in the district annually presents a report to the School Board. This week Kurt Lindemann, the principal at Revilla Alternative High School, spoke.
"When you look at Revilla and who we are I really think the best way to explain the program it's really not for me, it's really for our students. "
Student body president Tylerlynn McRoberts spoke about dropping out of a conventional high school her freshmen year because of gossip, bullies and popularity pressure. She is also the editor of the school newspaper and read an article she wrote about the complicated relationship with the school's name.
"The truth is Revilla is an alternative school. This does not mean we are a school for dropouts, rebels and taking the easy way out. Alternative only means taking a different route to where we need to go."
Another student, Jacob Morrison, talked about how that alternative path is made up of sections, unique for all 111 students. "Since sections are completed at the student's pace, there is no deadline for turning in sections. Unlike homework at other schools, which obligates you to turn it in the next day or suffer an overdue grade penalty. This had helped me a lot since homework deadlines eventually rutted me into a gutter I couldn't get out of, both because the staggering amount of homework, and the fact that even if I did turn it in it wouldn't help too much, because of the overdue grade penalty."
Audrey Kistler talked about a staff that feels more like family.  "They don't just know my name or my GPA. They know my goals, ambitions, triumphs and strengths."
Cassie Briskar agrees Revilla feels like home. Two years ago, she left her home in Wrangell after extreme bullying.
"In my old school I was just that depressed girl that spoke primarily out of anger and was in and out of the principal's office. But, I'm not. Not anymore at least."
She said she is finally the happy and outgoing person she always wanted to be, involved in the school's drama club and student government. She also shared a bit of exciting news. "I recently, last night, got my acceptance letter into UAS so I can fulfill my dream of becoming a social worker."
Kurt Lindemann returned to the podium to speak to an emotional board more broadly about the recent changes and goals. Changes include the addition of a drama club, Student Body Association, school newspaper (The Eagle's Nest), cooking club, yoga and ukulele lessons. The school is one of two alternative schools in the state that include junior high grade levels. Lindemann says  they will work on improving attendance currently at 84%.
Shannon Sines, director of curriculum, said she was inspired by the presentation."On my side of things I'm always working on the content, so to see them working on the relationship is thrilling so congratulations to them."
Sines, with the help of a curriculum committee, has focused this year on math content. Curricula are updated on a six year rotating basis. Last year, the School Board voted to move the math review up one year to transition to Alaska's new state standards.
Sines said the committee started with those standards and used them to evaluate current instructional materials. The high school materials, which have a recent copyright, met the current needs. "However during the audit of our current materials the elementary school materials and middle school materials found to not meet our needs. They had a copyright of 2006/2007. They were written far before our 2012 state standards."
The committee then looked at seven possible instructional materials and narrowed them down to two. Then, the committee weighed input from their peers and the public and didn't take a vote. "Because, when you hold a vote someone loses and someone wins. And it's difficult to move forward with a set of instructional materials, when you don't have the buy-in. "
Instead, the committee measured levels of support and found the most support for Pearson enVisionmath.
Sines says the choice was primarily because the material will create cohesion from kindergarten through eighth grade and has a robust technology component. All of the materials are available for the public to look at and submit final input before the decision returns to the Board at the next meeting.
Also Wednesday, the Board unanimously decided not to send any board members to Juneau for the Association of Alaska School Board legislative fly-in at a cost of about $2,500.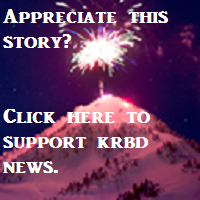 Citing requests from the Ketchikan Gateway Borough Assembly and the public, the Board also unanimously agreed to postpone submitting its fiscal year 2017 budget to the borough, which it is required to do before May 1st.
The next School Board meeting will be March 23rd. A public meeting on the budget will be on Tuesday March 22 from 6 p.m. to 8 p.m. at the Ketchikan High School library.