One of the key ingredients in cultures throughout the world is their cuisine. And, traditionally, women were the ones who developed that food culture. In celebration of Women's History Month, the University of Alaska Southeast Ketchikan Campus Library hosted a potluck, inviting people to bring a traditional dish, and share a story about their cultural heritage.
An intense ginger smell wafted from a bowl of Korean noodles. Next to them was a large pan of pancit, a traditional rice-noodle dish from the Philippines. There was Greek lemon chicken, Korean cucumber kimchi, Polish cucumber salad, Polish hunters' stew, Bohemian kolaczki, Irish gingerbread, and Stewie's Minnesota hot dish.
Everybody filled a plate, and tucked in, with some Greek music in the background.
Once our mouths were less busy with the meal, the stories started. UAS Librarian Kathleen Weichelman started it off.
She says she was adopted as an infant, and was always curious about her biological heritage. Her dad told her she was Irish because her name was Kathleen.
"I was happy with that when I was really little, but (later), that didn't really do the trick. So then, a few years ago, Kathy Bolling and her husband, Wayne Phillips, bought me a DNA test and I learned that I am 20 percent Irish. So, I brought an Irish dish: Gingerbread."
Wiechelman says the test showed she also is a mix of British, Scandinavian and other European cultures.
Shellie Tabb and her husband were stationed with the U.S. Army in South Korea as linguists. She brought the Korean noodles and kimchi. She says she fell in love with Korean cuisine, and kimchi is a staple of that cuisine. It was a way to preserve vegetables for the winter months.
"Every house has its own recipe, its own degree of spiciness. Maybe somebody likes a little more green onion, maybe somebody likes a little more hot pepper. Housewives take a lot of pride in their kimchi recipes."
Tabb recalled a visit to a restaurant, when her husband just wanted plain rice. The proprietor felt more than a little insulted that he didn't want any of her food.
"The story ends with her chasing us out of her restaurant, throwing a cup of water after us. So, don't insult the kimchi."
Micah Briola is a student at UAS, and her family comes from the Philippines. She brought pancit, and talked about her culture's tradition of eating with your hands.
Briola says that can be seen as weird by non-Filipinos.
"It's really common to see it in the Philippines, and a lot of restaurants encourage it. We have a saying … which basically means it makes the food taste better."
Mary Joe Turek says her family originally came from Bohemia, which now is part of the Czech Republic. She brought kolache, with a dollop of traditional poppyseed filling in the center of each pastry.
"My mother made kolache. I remember her raising the sweet dough by the — we had a floor furnace, so that was the warm spot in the house. And I remember it was for special occasions, because you had to make the bread."
Bridget Stearns brought her father's special Minnesota hot dish.
"I bet everyone in this room has heard Garrison Keillor wax lyrical about the casseroles of the Midwest. Well. It's true."
Except, casseroles in Minnesota are called hot dishes. Stearns says the housewives of the Midwest are as proud of their hot dishes as Korean women are of their kimchi. But her dad also loved to cook and experiment with his own hot dish recipes.
"The one I brought is one of my favorites of his. And it has, for the Midwest, for Minnesota, a little exotic element: Chicken Gumbo Soup as one of the prime flavors of this. So: There's my dad, Stewie's, hot dish."
Kasia Polanska comes from Poland, and says her mother did all the cooking, so she never learned how until she came to the United States.
"I remembered the flavors, and started recreating my mother's dishes by calling on the phone and scribbling notes, and just trying to recreate. I think I've become a pretty good cook and it's pretty similar to the way my mother cooked."
She brought a simple and refreshing combination of cucumbers, sour cream, salt and pepper, with a touch of sugar.
Kathy Bolling brought the Greek lemon chicken. She says her maternal grandfather ran away from Greece twice. The first time, he was only 14, and an uncle dragged him back home.
"When he was 17, he made it to Paris and sold fruit on the streets for a couple years until he had enough money to make it to the United States."
Bolling says her mother always wanted to go to Greece, but never was able to. Bolling and her siblings, though, were able to go, and met some of her extended family.
"They have a tavern in Loutraki. So, the next time you're in Greece, go to Loutraki near Corinth and find the… tavern, and it will be much better food than what I brought today. But also in the dish are Kalamata olives, and Kalamata is a little town near Corinth and near where my family was from."
John Radzilowski brought Polish Hunter's Stew. The hearty dish combines several different kinds of meat with cabbage and apples, providing sweet, sour and salty notes all at the same time.
Radzilowski says he comes from a family of good cooks, and he loves to cook, too. The stew is his mother's recipe, but, he says, it's a dish with a long history, going back at least 500 years.
"It's actually mentioned in historical accounts. It's the kind of dish that you would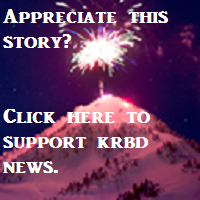 make if you were going out in a hunting party, and people would make a camp and put all these different ingredients together, and just let it cook all day. People would go out and hunt and come back – usually in the fall or wintertime, so it would be cold – and this would be ready for them."
Radzilowski, by the way, is a history professor.
The noon-hour event ended with a discussion of genetic testing, and how that is showing people how far different ethnic groups have traveled throughout history. People who think they are completely Irish, for example, might have a lot of Scandinavian in their genetic background, because those Vikings got around.
Turek says her last name indicates her family might not be originally Bohemian.
"Turek in Czech means a person from Turkey, but that was also a word that was used by anybody who came in. Anybody might be called a Turk by the people who were there, and of course, Bohemia, it's right in the middle and everybody came through."
No matter your DNA, though, your culture is what you grew up with, and that includes favorite family recipes.
Below is a recording of all the stories shared during the event, which took place Thursday, March 10.