The Ketchikan City Council will consider a new ordinance Thursday that would regulate hawking in the downtown area.
Last year, the Council tabled a similar measure to limit hawking, which is when the employee of a business tries to talk passersby into coming into that business to shop.
The delay allowed a committee of city officials and local business owners to review the issue and come up with recommendations. The result of that committee's work is the ordinance up for a vote on Thursday.
About a million cruise visitors flood Ketchikan's downtown every summer, and the competition to sell souvenirs and other goods to those tourists can be fierce. Local residents, some business owners and some tourists have complained about aggressive hawking, according to the ordinance.
The proposed new regulations would establish a commercial solicitation restriction district, which extends from just north of Berth 4 to a little bit past Thomas Basin. Within that district, business owners and their employees would be prohibited from engaging customers with the intent of encouraging them to make purchases, unless it is within the business itself.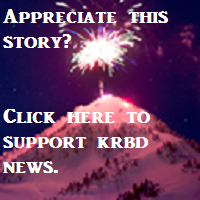 Exceptions will be made for dock vendors and businesses with special permits. That includes existing concessionaires permits, but the city plans to ask the Ketchikan Gateway Borough to stop issuing new concessionaires permits starting this year.
The ordinance establishes fines for anyone who violates the new regulations. A first offense will cost $200, a second violation within a year will be $300, and all subsequent violations in a year will cost $500 each. After the first offense, the fines apply to the business as well as the employee.
Also Thursday, the Council has an executive session scheduled to discuss a contract between Ketchikan Public Utilities Telecommunications Division and Verizon Wireless. That contract would allow KPU to start selling Verizon products locally.
The meeting starts at 7 p.m. in City Council chambers. Public comment will be heard at the start of the meeting.