A 25-year-old Ketchikan man faces multiple charges after allegedly fleeing from law enforcement officers on Tuesday.
According to an Alaska State Troopers online dispatch report, the Saxman Village Public Safety Officer contacted Tanner Stack at a South Tongass Highway business in connection with an alleged violation of Stack's conditions of release from an earlier case.
Troopers say that Stack initially gave a false name, and when the VPSO tried to arrest Stack, Stack broke away and tried to escape in his vehicle. Troopers report that the VPSO was dragged by Stack's vehicle for about 50 feet, until Stack allegedly hit another vehicle and then fled on foot.
The driver of the other vehicle was injured, according to the troopers' report. The VPSO and the driver were taken to PeaceHealth Ketchikan Medical Center for treatment, and later were released.
In the meantime, Ketchikan Police Department officers responded to the scene and found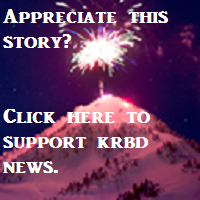 Stack at a home in Saxman. He was arrested, and Alaska State Troopers took him to Ketchikan Correctional Center, where Stack was charged with two counts of third-degree assault, leaving the scene of an accident, fourth-degree escape and violating conditions of his release.
Stack also was charged with bribery for allegedly offering the VPSO money in exchange for letting him go.
Stack was arraigned on the charges Wednesday in Ketchikan District Court.