A proposed excise tax on tobacco products sold in the Ketchikan Gateway Borough is back in front of the Borough Assembly on Monday.
A second vote on the ordinance was postponed from the Assembly's March 7 meeting. The proposal calls for a tax of $2 per pack of cigarettes, or 50 percent of the wholesale cost of other tobacco products. Proceeds would be split between the city and borough governments.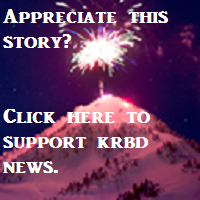 In the proposal, 15 percent of the borough's portion would go toward tobacco cessation programs. The rest would go toward grants for community nonprofit agencies. The city's half of the revenue would not be restricted.
During the March 7th meeting, an amendment was proposed that would eliminate sharing revenue from the tax with the City of Ketchikan. The measure was postponed before the Assembly voted on that amendment.
A regular objection from some Assembly members is that the tax is a "money grab" by city officials, who initially proposed establishing a tobacco tax.
The argument is that all the revenue should be used for tobacco cessation or health-related programs.
Also Monday, the Assembly will consider new fees for services provided by the borough's
Animal Protection Department. The new fee schedule would allow dog owners to purchase multi-year licenses that expire at the same time as the dog's rabies vaccination.
New adoption fees would include microchipping, a service that would be new to the municipal shelter.
The new fee schedule also would remove the "Moggie" exemption to the leash law. That exemption was put into borough code many years ago to allow Moggie, a golden retriever, to carry a downtown coffee shop's daily deposits to the bank by himself. The business, and the dog, are both gone, and the borough reports there have been no requests for that exemption for at least a decade.
The Assembly also will talk about the ongoing issue of in-kind services to the Ketchikan School District, and how to account for them.
Monday's meeting starts at 5:30 p.m. in Borough Assembly chambers. Public comment will be heard at the start of the meeting.