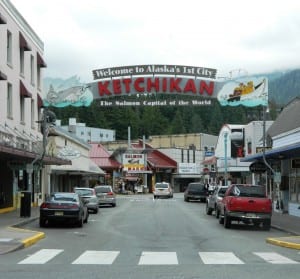 About 33 law enforcement officers and first responders from 10 different federal, state and local agencies in Ketchikan recently came together for a two-day anti-terrorism training event. They learned how to be more aware of potential terrorist plots and, just as important, built inter-agency relationships.
KRBD's Leila Kheiry talked with two of the local participants – City of Ketchikan Fire Chief Abner Hoage and Alaska State Troopers Capt. Michael Duxbury.
I'm going to guess what you're thinking: "Terrorism? In Ketchikan? Get real."
Because terrorists like to make a big splash, and won't attack some little town on an island in Alaska, right? Well, Capt. Duxbury — who worked as a Trooper with the FBI on the joint terrorism task force and previously led the state's Criminal Intelligence Unit — said it's not as unlikely for Alaska as many might believe.
"Alaska is within approximately 9.5 hours of the world's major hubs for transportation of goods in the airports, and we have a population that 63 percent comes from somewhere else," he said. "So, we have an exchange here – an ability to exchange with the rest of the world — that's almost unprecedented for how small a population we have."
So, that's the state. But what about small towns like Ketchikan?  Hoage, who is Ketchikan's emergency manager, said one thing they learned in the training is that a lot of terrorism plots start in smaller communities, "and then they move the materials to where the attack takes place. Because they don't want to be noticed until they're ready to be noticed."
So, it's possible in small-town Alaska. But what can be done about it? The training, they said, focused on increasing awareness. They learned what to watch out for as first responders, and they encourage local residents to also be vigilant.
But, both Hoage and Duxbury stressed, terrorism isn't confined to any one group.
"We don't want people to focus on religion or national origin, or any of that," Hoage said. "Focus on the behaviors. You know what's going on in your community; you know what's normal and what's not. If you see something that's not normal: Report it."
But, what counts as "not normal?" – I mean, this is Alaska, after all.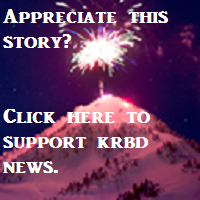 Even in Alaska, though, it's a little strange for someone who doesn't own a specific kind of business to start buying large quantities of certain chemicals, for example.
"Maybe acetone (and) you're not in the painting business," Duxbury said.
"Some sort of chemical – industrial grade products when you don't have an industrial type business that you're operating," Hoage added.
Or, you notice that a business has lots of people coming and going at odd hours, and some of them appear to be living in the business. Or a group of neighbors all suddenly experience a rash of thefts from their shops or garages.
And, Duxbury said it's important to note that telling law enforcement when you see something strange doesn't necessarily mean you're getting a neighbor in trouble. Law enforcement still needs to go through a process to determine whether that "something" is something that needs further investigation.
"Professionalism doesn't dictate that you give me a piece of information and I go running to that person and say, 'hey, he told me – what are you doing?' and shake someone," he said. "No (that's) violating people's rights, and civil rights are important to all of us. That's why we live in Alaska, most of us, because we have a pretty strong Constitution."
Getting back to the question of "can it happen here?" Terrorism is not only a violent means of expressing an extreme religious ideology; Hoage said it can be anyone using violence to promote an agenda.
There are some issues specific to Alaska, especially Southeast Alaska, that generate a lot of passion in people, such as environmental protection versus resource extraction.
"And when you think about it in that sense, there are things going on in the State of Alaska and even here locally, that someone could try to influence policy, whether it be state or federal policy, at a local level," he said.
One area in Ketchikan that many local residents might consider a likely target for terrorists is the downtown cruise dock. Duxbury said that is a potential target, because terrorism is about symbolism and making a symbolic statement.
"We have 940,000 people (a year), and they came from all over the world," he said. "We wouldn't even have to harm anybody – but scare a bunch of people – and we'd have an impact all over the world."
And the best way to counter that kind of impact is through awareness and cooperation.