The Alaska Supreme Court issued a decision Friday about a case argued in the Ketchikan High School auditorium in November of 2014.
That special event was arranged through the Supreme Court Live program — which works to make court proceedings more relevant to Alaskan students. The entire court, along with attorneys for both sides in the State of Alaska vs. Central Council of Tlingit and Haida Indian Tribes of Alaska, traveled to Ketchikan for oral arguments in that case.
The issue stems from a federal program that provided funding to Tlingit Haida to set up a tribal child support program. The tribe started issuing child support orders, and asked the state to enforce those orders.
The state refused, arguing that the tribes don't have jurisdiction over child support. The tribe sued the state in Alaska Superior Court and won, and the state appealed that decision.
The Supreme Court on Friday affirmed the lower court ruling, siding with the tribe. The opinion states that tribal courts do have jurisdiction over child support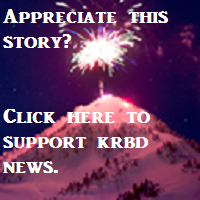 payments for children who are tribal members, even when one parent is not a tribal member.
Here's a report from the 2014 oral arguments.