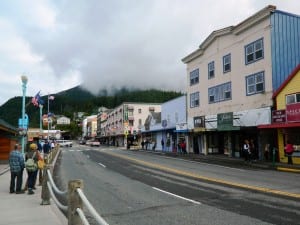 An ordinance that would restrict hawking in the downtown area is up for a second and final vote in front of the Ketchikan City Council on Thursday.
The ordinance passed unanimously in first reading at the Council's March 17th meeting. If it's adopted, business owners and their employees in the downtown area would be prohibited from engaging customers with the intent of encouraging them to make purchases, unless the encounter is inside that business. Those who violate the regulations would be fined.
Exceptions will be made for dock vendors and businesses with special permits.
Also Thursday, the Council will hold a public hearing on its decision to protest a liquor license renewal for First City Saloon. The business is delinquent on property and rental taxes, according to the city.
In other business, the Council will discuss the issue of providing some kind of accessible taxi service; and how to finance upgrades to water and sewer pipes on Front, Mill and Stedman streets.
The Council also will vote on a second reading of an ordinance that authorizes a contract with Verizon Wireless.
The Verizon contract will allow Ketchikan Public Utilities Telecommunications Division to sell Verizon products and plans in Ketchikan. KPU expects to start that service this summer.
Thursday's meeting starts at 7 p.m. in City Council chambers. Public comment will be heard at the start of the meeting.