A Ketchikan day care administrator was recognized last week with a statewide award for his work with young children.
Pat Stack plays with kids all day, and he's great at it. So great, he was named this year's top child care administrator in the state by the Association for the Education of Young Children.
Stack manages the PeaceHealth Ketchikan Child Development Center – a day care that the local hospital operates out of Holy Name School. After a rousing game of Hungry Cookie Monster in the school gym, Stack and the kids settle down for a story.
Among those listening to the story was PeaceHealth Ketchikan's CEO Ken Tonjes. He visited the day care center to congratulate Stack, and to present his AEYC certificate. Following storytime, a cluster of giggling kids clung to Tonjes' legs while he handed over the award.
"This is no surprise to us because we know you," Tonjes told Stack. "We know you are a wonderful man, strong faith. We're fortunate to have you as part of PeaceHealth and we're certainly fortunate to have you watching our kids in our community."
Stack said the award was a complete surprise. He learned about it when a friend stopped him on the street.
"She stops by and says, 'Congratulations! Administrator of the year!' and I'm like, 'Uhhhh. I think you have some wrong information. I don't know anything about what you're talking about,'" he said, laughing.
He later learned his friend was right. Stack made sure to credit the entire team, though. He said the child care center is a success because everyone who works there is dedicated.
I asked Stack how he got started in the field, and he said he figured it out a long time ago.
"I took the child psychology class in high school. I was a senior and we would venture into different child care centers in town. At one point, I came to the PeaceHealth center and Jill Lindgren saw me working with the kids and later that year, contacted me and asked if I'd be interested in a job," he said. "I've kind of been there ever since."
Stack said working with kids helps to keep him young, and it's a fun job that allows him to share his talents and interests, like music.
"We'll write songs, we'll use them for transitions," he said. "You probably noticed: Just going into snack, we have a song for that."
The snack song encourages the kids to wait their turn to wash their hands before a mid-morning snack. And it works! They sit as quietly as they can as he sings each kid's name.
Stack, who plays in a local band, also uses music to teach concepts, such as counting. Learning is part of what they do at the child care center. But, Stack says, the focus is always on play.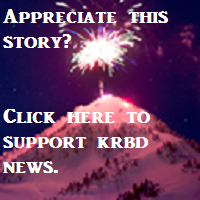 "At this age, you're doing a lot of socio-emotional work: Getting kids ready to be in school," he said. "But at the same time, I very strongly believe kids should be kids. So definitely, we're heavily focused on play, which I think you should be when we're 3 and 4 years old."
And the kids appear to agree.