A plane registered to Sunrise Aviation, a Wrangell-based charter airline, crashed on Admiralty Island Friday. Four people were traveling on the Cessna 206 between Wrangell and Angoon. Only one female passenger survived said a search and rescue official.
The Coast Guard received an emergency alert in the morning, indicating the aircraft was in distress.
A Coast Guard helicopter located the downed plane — 20 miles southeast of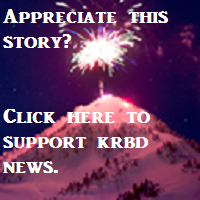 Angoon — but was unable to land due to turbulent winds. Members of Sitka Mountain Rescue were called in to hike to the scene. Captain Lance Ewers said the team was dropped off 600 yards below the wreckage, which is located in snowy, alpine terrain.
"To everyone's disbelief they found one of the four passengers was alive," Ewers said. "And then they immediately started mounting an effort to get her out of the plane where they could insert her into the helicopter."
Ewers is helping guide the team remotely from Sitka. The female survivor is being medevacd to Bartlett Regional Hospital in Juneau. Her medical condition in unknown at this time.
State business licensing documents for Sunrise Aviation identify two owners: Tyler Robinson and David Galla. Both are listed with Wrangell mailing addresses.
FAA records show that both men are licensed commercial pilots.
This report was provided by KTOO in Juneau. Here's a link for updates.