The Ketchikan School Board will talk money during its regular meeting on Wednesday.
The revenue forecast for the school district this coming year doesn't look great, according to a memo from Superintendent Robert Boyle.
The Legislature is cutting state spending as much as possible to try to fill Alaska's budget deficit brought on by low oil tax revenue. That includes shifting some state expenses to municipalities.
One bill would increase local government's share of state-mandated teacher pensions – the Teacher Retirement System. In his memo, Boyle writes that if that bill passes, Ketchikan's school district would need to find a way to pay for an additional $872,000 in TRS costs.
He writes that the school district either would have to cut more programs, or the borough would need to provide additional funds.
Next year's budget as it stands, and without considering the extra TRS expense, does not fund activities, the Kanayama Exchange, the district wellness program and the Jack Cotant maritime training boat.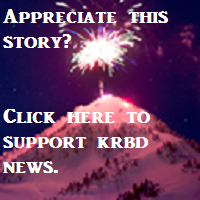 On Wednesday's agenda is a motion to approve the FY17 school district budget. The Board has held public hearings on the budget, but hasn't yet formally submitted it to the Borough Assembly.
The Board has until May 1 to submit next year's budget.
Also Wednesday, the Board will consider a motion approving the district's estimate of the value of in-kind services provided by the borough. That estimate is about $671,000.
An executive session is scheduled at the end of Wednesday's meeting for the Board to discuss contract negotiations with district technology staff.
The meeting starts at 6 p.m. in Borough Assembly chambers. There is time for public comment scheduled at the start and end of each School Board meeting.