The Ketchikan School Board heard from the Fawn Mountain Elementary School principal during Wednesday's regular meeting, including discussion of a possible totem pole for the school.
Principal Alonso Escalante said he's been talking with Alaska Native Brotherhood/Alaska Native Sisterhood Camp 14 about how to move forward with the project.
"Given that half of our kids are Native, and it's a cultural legacy of Southeast Alaska," he said.
Escalante said officials with Camp 14 have been enthusiastic about the idea. He also plans to talk with Ketchikan Indian Community. There are some options, he said. A group could donate an existing pole, for example, or they could all work together to commission a new pole for the school.
"What we've discussed is having the tree taken to Fawn Mountain – we have that large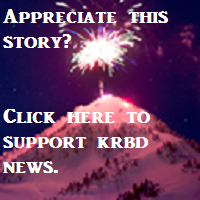 area in the atrium – and seeing if the carvers could built it there in the school," he said. "So that the kids could see it being built."
It would be a multi-year project to secure funding and provide time for the carvers to work.
Ketchikan School Board members liked the idea. Board President Michelle O'Brien said if it happens, she'd prefer the pole remain inside the school, to keep long-term maintenance costs low.
Board Member Dave Timmerman added that the district needs to be careful to not accidentally insult any of the local Native tribes.
"My main concern was whether – and anytime there's going to be a totem pole carved for anybody – I'm always worried about which (of the) three tribes is gonna do it? Is it going to be all three? Is it going to be the Haida, the Tlingit, the Tsimshian?" he said. "But with ANB/ANS in there, they're kind of an overreaching authority over that. I have pretty good confidence it'll be worked out and we wouldn't have to worry."
Escalante also talked about standardized testing, which was cancelled after the Alaska Measures of Progress, or AMP, vendor had technical problems that interrupted testing statewide.
Escalante said that the school's AMP results from last year were sobering, and the teachers responded by changing curriculum to better align with standards. Because this year's testing didn't happen, they won't know how those results may have changed, he said, but the school is ready for any new testing that the state chooses in the future.
The Fawn Mountain report was one of a series of school building reports that the School Board hears throughout the year. At the conclusion of Escalante's report, one Board member asked about Popcorn Day at the school – which is on Wednesdays.
"The kids can buy a bag of popcorn for 50 cents, and all that money goes into our family fund," Escalante explained. "We frequently have families that come to us and ask for food cards, bus passes, there are a number of things that families come to us and ask us for help with. We also use that money to buy Christmas presents for a number of our kids that we know are in need."
Fawn Mountain is the second-largest elementary school in the district, just a few students behind Houghtaling Elementary School. Escalante said a day care that is expected to open near Fawn Mountain could lead to more enrollment in the future.
Fawn Mountain also is Ketchikan's newest elementary school. It's located south of Saxman, on Homestead Road, and was built about 10 years ago.