The State of Alaska's audit of how various port communities use their portion of the state's commercial passenger vessel head tax was released yesterday.
The City of Ketchikan came out looking pretty good, with no recommendations in the audit regarding how the city uses its CPV funds. The Ketchikan Gateway Borough, though, had some potential concerns identified in the audit.
Two general recommendations are that the borough ensure CPV revenues are used only for allowable purposes, which means functions that directly benefit cruise passengers; and that the borough develop a specific plan for how to allocate CPV funds.
In a written response to the audit, Borough Manager Dan Bockhorst takes exception to those recommendations. He says the borough has used the funds properly and started implementing a cost-allocation methodology three years ago.
Some of the specific borough CPV uses that the audit questions include funding for the borough's bus system, airport and some general government expenses.
In his written response, Bockhorst says that CPV funds account for about 14 percent of public transit costs, about 3 percent of airport costs and about 2 percent of other borough services.
Bockhorst writes that the transit system is heavily impacted by tourism, with ridership more than doubling during the height of the summer season. In addition, the borough provides a free downtown shuttle specifically for the use of cruise passengers.
Regarding the airport, Bockhorst writes that nearly 3.5 percent of all the people using Ketchikan International Airport are cruise passengers or cruise line employees.
The borough's response to the audit also addressed general government costs funded by CPV money. For example: The borough established a special tourism management program for the busy Herring Cove area, and provides emergency services in areas frequented by tourists.
The borough states that it also manages conditional use permits related to tourism activities; helps pay for the public library, which is a popular destination for tourists in search of an internet connection; and maintains parks enjoyed by visiting cruise passengers.
The Legislature has not yet determined what it's going to do with state CPV funds in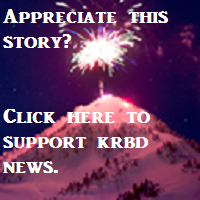 the future.
Through its cruise head tax, the state has collected about $271 million since 2007, according to the audit report. Of that, about $99 million was shared with port communities that are directly affected by cruise traffic.
Two other communities – Skagway and Sitka – were identified in the audit as potentially using CPV funds incorrectly.
The audit was commissioned last year as state lawmakers started looking at ways to increase state revenue and cut state costs. It was conducted by the Division of Legislative Audit.