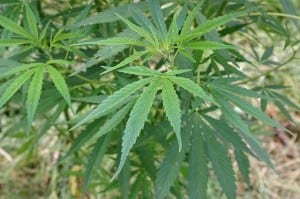 The Ketchikan Marijuana Advisory Committee on Friday approved proposed changes to borough code and discussed concerns about transporting pot samples for testing.
On Tuesday the Ketchikan Gateway Borough Planning Commission postponed approval of three applications for conditional use permits. One application submitted by Eric Reimer and Mark Woodward seeks to open a retail pot store on Stedman Street.  Two submitted by Mike Keiser are for cultivation and production facilities on Roosevelt Drive. The Commission voted to postpone approval of these applications until its May meeting because of possible rule changes at the state and local level.
The state is considering requiring federal background checks of business license applicants. Locally, there also is concern about how marijuana can be transported for testing without violating federal law.
Two of the applicants spoke to the committee about transportation considerations. Eric Reimer says he spoke with captains with the Alaska Marine Highway System who acknowledge there currently is no legal way to transport samples by ferry.
"They also said that it is possible that the Marijuana Control Board is going to issue waivers, or they'll come up with a policy in place. So I would think this would be a good opportunity to let the state write some laws and see what they're going to do before adopting any local ordinance that might negatively impact the new economy here."
Reimer also suggested mobile testing labs could visit communities.
Marijuana business applicant Mike Keiser says he has experience with sample testing and labs, and believes because the quantities needed for testing would be small, it should be legal to transport them.
"Federal and state agencies do this routinely, the borough does this routinely, state troopers transport suspected drugs to their respective labs all over the country. That's where the federal government stands on this. This would be considered a sample quantity of a suspect environmental sample."
Committee member Alan Bailey recognized law enforcement and federal agencies have regulations that allow them to ship drug samples, but questioned how those regulations would apply to a private business.
The committee received an update from Borough Attorney Scott Brandt-Erichsen about pending state marijuana regulations. He says there are two main points of dispute between the House and Senate bills. Under the Senate bill, marijuana sales would be illegal in unorganized boroughs unless communities opt in. The House bill proposes the opposite: sales would be legal in unorganized boroughs unless the community opted out. He says the bills also differ on the number of plants allowed for commercial cultivation.
Brandt-Erichsen says the Senate version of the bill would allow municipalities within organized boroughs to decide independently on whether or not to allow marijuana businesses. Brandt-Erichsen says this would not affect zoning, but would be significant to cities and boroughs.
"If the City of Saxman or City of Ketchikan wanted to opt out and prohibit any marijuana establishment, that would not impact the other areas. Likewise if the borough wanted to opt out and prohibit marijuana establishments, it would not prohibit them from locating in the City of Saxman or the City of Ketchikan. Each jurisdiction will have control over one slice of our greater community area."
Planning Director Chris French presented proposed additions to borough code to ensure local ordinances comply with state regulations and to clarify language.  One recommendation adds state buffer requirements to borough code.
"The Marijuana Control Board is not going to be checking that a local applicant meets their 500-foot buffers. They require in the application process that the applicant certify that they meet them, but they are not requiring any evidence that they meet them. Staff takes that as they're making local governments the ones who have to confirm whether the business meets or doesn't meet the state's buffer requirements."
French says under current code, an application would have to be accepted, even if the business was within a buffer zone. He says the committee would recommend denial, but could not turn down the application. French says by adding the requirement to comply with state buffer zones, the application could be denied at the time of submission.
Another proposed code change requires applicants provide a testing plan. The code states that the plan cannot rely on transportation by mail or common carrier unless permitted under federal law.
The committee unanimously voted to approve proposed changes and to bring them to their respective government bodies for consideration. Committee members Frank Seludo and David Timmerman did not attend Friday's meeting.
Also on the agenda was a proposal on taxation of commercial establishments. The agenda item was proposed by Timmerman. Because he was not in attendance, the committee decided to postpone that issue.
No future meetings are scheduled. The committee will remain in recess until changes or further developments in regulations occur.