The Ketchikan Gateway Borough Assembly almost lost one of its members Monday, when Assembly members voted against excusing Felix Wong from three or more consecutive meetings.
According to borough code, if Assembly members miss more than two in a row, they can be kicked off unless the rest of the Assembly votes to excuse them.
Wong has been in Seward for a work-related assignment and Monday's meeting was his third consecutive absence. Wong participated telephonically for the April 4 meeting and on Monday, but the code is specific that members must be physically present.
Assembly Member John Harrington, who voted against excusing Wong, explained that it's not only the current absences that concern him.
"It's always a ticklish and uncomfortable situation," Harrington said. "Three consecutive Assembly meetings, taken by itself, we've excused that before. But Mr. Wong has also missed a series of other meetings at the beginning of the year, with policy sessions. I have some real discomfort over this issue."
Assembly Member Bill Rotecki pointed out that all of Wong's absences have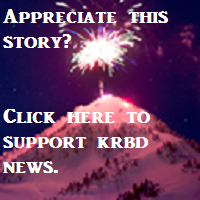 been related to his work for Vigor Alaska, which operates the Ketchikan shipyard and a yard in Seward.
The motion to excuse Wong failed in a 2-3 vote, with Assembly Members Bill Rotecki and Stephen Bradford voting in favor. But then, the motion to declare the seat vacant and start advertising it for applicants also failed, this time in a 3-2 vote.
A motion must receive at least four votes to pass. Wong couldn't vote, because it was declared a conflict of interest; and Assembly Member Mike Painter was absent.
There was a lot of discussion and a break to confer with Borough Attorney Scott Brandt-Erichsen. The Assembly came back, talked some more, and eventually voted to excuse Wong from the March 21st meeting. That re-sets the clock slightly, giving him one more meeting before again hitting the three-meeting threshold.
Assembly Member Glen Thompson said he's happy to extend a little courtesy, but: "In my opinion, it's very serious that if someone is going to undertake to sit in one of these chairs and be a leader in this community that they have to follow the rules and show up. In the case of Mr. Wong, I understand that this is something that his employer has required him to do, but unfortunately, that's not a problem of this Assembly. That's a personal problem for Mr. Wong. If he can't attend, he should step aside and let someone sit in the chair who can be here."
Wong didn't participate during the discussion of his absences, but later addressed the topic during his comments at the end of the meeting. He said he understands and appreciates the concerns brought up by other Assembly members.
"I certainly do miss being present there and being able to see information brought up first hand as it develops," he said. "I certainly look forward to attending the next meeting in person."
Also Monday, the Assembly voted to not provide a cost-of-living adjustment in FY2017 for most borough employees. Assembly Member Stephen Bradford did suggest an amendment to provide a half-percent COLA, but that failed in a tie vote. Bradford, Rotecki and Wong voted yes, but Mayor David Landis broke the tie by voting no.
The Assembly also approved two ordinances that address how the borough funds local schools. The first provides a process for charging in-kind services to the local school district, and the second dedicates property tax and Secure Rural Schools funding for public education.
The next Borough Assembly meeting is May 2.