Ketchikan search and rescue crew members have recovered the body of 22-year-old Justin Nathan, missing on Deer Mountain since November.
The Ketchikan Volunteer Rescue Squad found Nathan's remains on Sunday morning, in an area that had been searched when he first went missing, said Jerry Kiffer, a longtime KVRS organizer.
In November, though, weather conditions were extremely poor.
"The day of and the following days, we got a significant amount of snow up in the mountains, and that covered up a lot of our clues," he said.
The search area also was very steep. That combined with the snow made it dangerous for SAR crews to continue. KVRS suspended the search after about five days.
Search conditions improved in recent weeks, and Kiffer said KVRS decided to combine a training exercise with another search of the same area.
"We located some clues near the top of the cliffy area," he said. "Subsequently, we were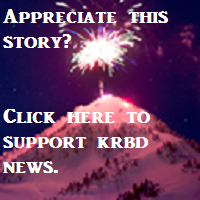 able to locate him farther down the mountain. It was around the 1,300-foot level."
Kiffer said the location where Nathan's body was found was particularly steep. Rescue crews had to use ropes to recover his remains.
Kiffer said that's an area where other hikers also have lost their way. From the Deer Mountain Trail, it appears to be a shortcut to town.
"But what they don't realize, when you get about halfway down, then you run into some really, really steep cliffs, a series of them," he said. "People generally will get down into that cliffy area and then get stuck. They can't continue and they can't climb back up."
In mid-November, Nathan and a friend went for a hike up Deer Mountain. They made it to the top, but Nathan was not able to hike back down. His friend left him at an easily-located area and hiked out to find help.
When search crews went to the spot where Nathan had been left, though, he wasn't there. Crews searched the mountain for long hours in driving snow and rain for five days, but eventually KVRS called off the search.
Kiffer said finding Nathan's body on Sunday provided closure for everyone involved. He said family members were on scene at the KVRS base camp, and were notified as soon as Nathan's remains were found.
Kiffer said that because of the difficulty of the terrain, that part of Deer Mountain is not an area that KVRS normally would choose for a training exercise. But, the team wanted to take advantage of the opportunity.
He commended KVRS volunteers who helped search.
"They have an awful lot of dedication," Kiffer said. "It's not just about the rescue to them. They understand the important of closure. And of course, everybody feels bad when we can't bring the loved ones home."
According to Alaska State Troopers, Nathan's body was sent to the State Medical Examiner's Office for examination.