A marten dragging a chicken across North Tongass Highway caused a two-vehicle collision just before noon on Saturday.
According to the Alaska State Troopers online dispatch, the marten was fighting and dragging the chicken across the southbound lane on the curve at about Mile 10 North Tongass.
A 75-year-old Ketchikan woman was headed southbound in a 1999 Honda Civic, and braked abruptly when she rounded the curve and saw the animals in the roadway.  A 47-year-old Ketchikan man driving a 1998 Dodge truck behind her attempted to stop to avoid a collision, but due to heavy rain, his truck slid and rear-ended the Honda.
A passenger in the truck said he had a possible injury, and was transported to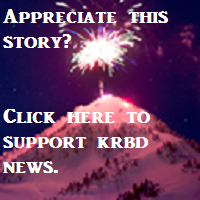 PeaceHealth Ketchikan Medical Center for evaluation.  All parties reported wearing seatbelts.
Martens are carnivorous and are members of the weasel family, according to the Alaska Department of Fish and Game website. Adult martens are about 20-25 inches long and weigh up to four pounds. Their natural prey includes voles, squirrels and birds.