The Ketchikan Public Library offers a variety of programs for all ages, but one of the most popular is Story Time, held each Thursday. The event is for preschoolers and features songs, movement, books and crafts.
On this Thursday, Children's Librarian Amanda Kiely leads Story Time. She starts with a few songs and games and then reads picture books to an enthusiastic audience of about 40 young children and adults.
Kiely says while Story Time is fun, it also provides valuable experiences and interactions at a critical stage.
"It's really setting kids up for success with early literacy skills. We're getting them ready to read, getting them ready for school, we're introducing them to social interactions. There are so many different things that they get exposed to here that's really important for their growth and development."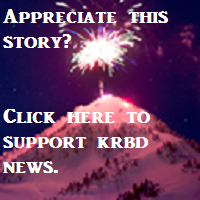 After playing and reading, a craft activity follows. Kiely says sometimes the craft relates to a story theme, but often she selects a project that just looks fun and is appropriate for preschoolers.
This week, the children make crayon resist art. A picture is drawn on heavy paper with a white crayon and the drawing "magically appears" when paint is added to the page. Kiely provides instructions, and then the young artists express their own creativity.
"It is like magic! So you're going to do the same thing. You're going to start by making a picture with your crayon and pressing down really hard. Once you're ready, I'll bring some water around and you can paint it to make it look like this. So you can get started."
Some patiently waited for instructions, while others excitedly began painting without guidance. Several chose to paint without drawing with a crayon first. While they missed out on the "magic effect" of an image appearing, it was clear they still enjoyed creating. Several shared their drawings and explained what they made.
Kiely: "It's very good. What is this?"  First Child: "It's a flower."  Kiely: "I can see this beautiful flower right here. Nice job."
Kiely: "Tell me what you did." Second Child: "I did a smiley face and some zig zags." Kiely: "Awesome!" Second Child: "I kinda cut off my name a little bit." Kiely: "But it looks great. Nice job."
Most completed their crafts quickly and many headed back into the children's section of the library to play or to look at books.
Kiely says Story Time is geared toward 3 to 5 year olds. The library also holds Baby Time on Fridays for infants through age 2. Headstart classes participate in Story Time Monday through Wednesday. All begin at 10:30 am at the Ketchikan Public Library. Though geared toward specific groups and ages, Kiely says all children and their parents and guardians are welcome to attend any Story Time session.