A proposed pot shop in the downtown Ketchikan area won't be opposed by the City Council – at least not right now.
The Council voted 1-5 Thursday to reject protesting a permit for the proposed retail marijuana store on Stedman Street in the former Thai House restaurant. Council Member Dick Coose, who asked that the item be placed on the agenda, was the only vote in favor.
Several people spoke during public comment about the issue. Terrance Robbins of the Ketchikan Wellness Coalition, who has spoken numerous times in opposition to allowing retail marijuana, reiterated his concerns about increased access for youth.
"If we have marijuana businesses in Ketchikan, it normalizes it. It makes kids think that it's safe," he said.
Three others spoke in favor of allowing retail pot. Derek Meister said the community needs to figure out how to make legalized marijuana functional and safe.
Karl Richie, a local doctor who owns the building where the proposed marijuana business would be located, said pot is relatively benign and carries far fewer risks than alcohol, methamphetamine and, especially, tobacco.
Eric Reimer, one of the partners working on opening the proposed marijuana store,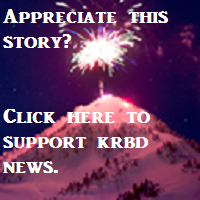 gave the Council some details about the business. He said they plan to close relatively early in the evening – about 8 p.m., to alleviate concerns about noise. There also are strict guidelines about filtration, he said, which would minimize the smell of pot outside the store.
The proposed business would have two sections. One would be a lounge where people can purchase and then eat or smoke marijuana on the premises, but cannot take any with them.
A separate area is where customers can purchase packaged marijuana for home use.
Coose had expressed concern about Ketchikan becoming a "pot port," and about cruise passengers carrying marijuana on board the ships, which don't allow cannabis. Reimer said many passengers board the ships in ports where marijuana also has been legalized.
"People are getting on these ships in Seattle. People are getting on these ships in Anchorage," he said. "These are two places where cannabis is also available, right? So, if they wanted to bring cannabis with them, sneak it onto the boat, they could do it when they first come onto the boat. I don't believe we're putting an undue temptation in front of passengers."
Reimer added that his proposed business would provide plenty of warning to customers about not taking marijuana on board the ships through signage and verbal reminders.
Reimer said the lounge, where customers buy single-use amounts and imbibe on site, likely would see the most cruise passenger traffic. He expects the separate store would cater more to locals, and would offer medicinal products in addition to recreational cannabis.
The location of the proposed store is pretty much the only spot in the downtown core that doesn't fall within state buffer zones. Those buffers are a minimum distance between a marijuana business and, for example, a school, church or youth facility.  So, if they get through all the various permit processes, the Stoney Moose Lounge likely would be the only retail marijuana store in downtown Ketchikan.
While many Council members expressed concern about allowing a pot shop downtown, most agreed that if it has to happen, this proposal sounds like one they can live with.
Council Member Janalee Gage said,  "As much as I don't like it, if I was going to test out the theory, I'd probably like to see them doing that than somebody that's irresponsible."
The business proposal still needs to go in front of the Ketchikan Gateway Borough Planning Commission for a Conditional Use Permit. Those permits need to be renewed annually, so the city could protest at a later time.
The business also will need a state license and, eventually, a source of legal pot to sell.
Reimer said the handful of local cultivation businesses that are making plans now will find a way to get their products tested, and he's confident that there will be a supply for the retail store.