For the first time in about six years, Ketchikan residents were able to donate blood.  Vigor Industrial staff helped coordinate the two-and-a-half-day event that saw about 100 donors.
William Amituanai with Blood Bank of Alaska is the team leader for the Ketchikan drive. The organization has donation centers in Anchorage, Fairbanks and Wasilla, but arranges mobile drives with help from volunteers in other communities. Amituanai says this mobile drive was planned about two months ago.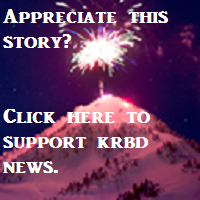 "Back in Anchorage, we get everything set up a week ahead and then send it through Alaska Airlines. The folks at Vigor picked up the equipment and put it in the room we're using right now for the blood drive."
After showing a photo ID and registering, potential donors are given a mini exam to make sure they are healthy enough to give blood. It includes temperature, blood pressure and collection of a small blood sample by pricking a finger. If the sample doesn't have a high enough percentage of red blood cells, the person cannot donate.
Donors also fill out a questionnaire. Many questions relate to travel and potential exposure to viruses. More time is spent filling out paperwork and answering questions than actually donating blood.
One of the donors was Jane Bolima. She says she used to regularly donate blood when she lived in Washington state, but hasn't been able to in Ketchikan because blood drives aren't held often.  She says she donates to help others.
"I want to help people in any way I can and this is one way."
Bolima says donating blood isn't anything to fear.
"It's easy. It's not scary at all. Plus you get cookies afterwards."
Ray Cox who works at Vigor Industrial is a new donor. He says, in part, he decided to donate to support his co-worker, Catherine Wong, who helped organize the drive.
"It's for a good cause. Plus my co-worker Cat worked hard to get this; so, being grateful to her, I decided to come down and do it for her."
Asked why he hasn't given in the past, Cox replied…
"I don't like needles. I don't like giving blood. But it's worth it so I'll just be brave and go do it."
While Cox was finishing up his paperwork, I stepped forward to donate. Amituanai had me sit in a chair that reclines if the donor feels dizzy or is more comfortable lying down. I was asked to relax my arm on an arm rest and was given a soft rubber ball to squeeze periodically through the donation process."
"I'm just going to roll up your sleeve a little bit more. I don't want to get any iodine on you. Relax your arm. I'm just going to double check (the vein) one more time. Go ahead and squeeze, squeeze, squeeze, squeeze, squeeze. Hold your squeeze and rotate your wrist towards you. Just keep your arm straight but rotate your wrist. There you go. Perfect. That's it."
A small portion of the blood collected is sent to a laboratory for testing. Amituanai says they are looking for diseases that would make the blood unusable. They also check for blood type. The information is kept confidential, but if a medical problem is found, the donor is notified.
After finishing, I checked in with Ray Cox to see how his first-time donation went. He says the process was easier than expected.
"For being afraid of needles…I think it's a lot to do with the lady who's doing my arm too. She's really nice so it makes it easier."
Cox says he would "absolutely" donate again.
Amituanai says more than 40 people participated the first day of the drive and about the same number was expected the second, much better than the 30 projected for each of the full days. Amituanai says Blood Bank of Alaska hopes to return and hold drives annually  in Ketchikan, if possible.