Pictographs, volcanoes, fossils and whales were some of the highlights during a field trip last week to Carroll Inlet.
About 150 Ketchikan fourth-graders boarded two Allen Marine catamarans for the trip.
Fourth-graders from Ketchikan's public schools and Holy Name Catholic School eagerly – and noisily — claimed seats with their friends under the watchful eyes of teachers and chaperones. After a quick safety lesson from the Allen Marine crew, we headed out to find a pictograph.
But first, we found a whale. Several whales.
The humpbacks kept the kids occupied until the catamaran was able to maneuver into position to view the ancient pictograph, drawn by an unknown artist on a rock wall.
Jim Baichtal is a geologist with the U.S. Forest Service. He was one of a handful of Forest Service experts on board to help teach the kids about the different sights.
"So, they often did pictographs in places that are overhung, that don't get wet and rainy," he told a group of students as the boat idled in front of the red-tinted painting. "They could come in at high tide and climb up and do the painting. Almost any of those overhung places back in here have got some sort of a painting."
Pictographs, though, aren't Baichtal's specialty. His thing is volcanoes, and after we left the pictograph behind, he talked to the group about Southeast Alaska's somewhat volatile volcanic history.
"What you guys may or may not know is that right here behind us is 25 different volcanoes," he said. "Eight of those erupted in the last few thousand years."
We passed one of those volcanoes: Painted Peak, which erupted during the last ice age when the mountain was covered by a couple thousand feet of ice.
Baichtal's other area of expertise is paleontology, and he brought along something pretty cool for show and tell: an acrylic replica of a recent discovery.
"This is a 220-million-year-old fossil iguana that came out of rocks up near Kake in central Southeast Alaska," he said. "It's called a thalattosaur."
The fossil is complete – it shows the legs, the head, the tail, its ribs….  "In fact, it's so wellpreserved, that whatever its last meal was is still in the stomach," Baichtal said, as the kids lined up to look closely.
The fossil was a big hit with the fourth-graders, but there was still more to learn on the trip, with different stations set up in different part of the boat. John Hyde is the fish, wildlife, watershed and botany staff officer with the Forest Service's Ketchikan-Misty Fiords Ranger District. A group of boys clustered around him as he talked about jellyfish.
"What do their little tentacle things do?" he asked.
"They sting you," one boy answered.
"They can, but they also grab food, so those tentacles are really neat," Hyde said.
"What kind of food do they eat?" another boy asked.
"They eat other fish, they eat plankton, they eat anything that gets stuck in their tentacles," Hyde said.
"What if they catch a halibut?" the boy asked.
"I don't think they could do that," Hyde said.
Theresa Thibault is the forest archeologist for the Tongass National Forest. She provided more details to a group of girls about pictographs and petroglyphs.
"So, the difference between a petroglyph and a pictograph is that a petroglyph is actually pecked into the rock and a pictograph is painted onto the rock," she said.
"I've seen one of those," a girl said, pointing to a photo of a pictograph. "There's a beach by my house and whenever I go to a big rock like these, I see drawings like that."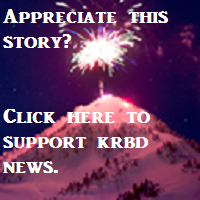 Margaret Cloud, who has worked as an interpreter for Allen Marine, talked to a couple of young boys about wildlife commonly found in the area.
"Now, we have a number of different mammals. Those are the deer, bears, wolves, the marten," she said. "But we also have beaver. Where can we find beaver in the Ketchikan area?"
"You can sometimes find them at the White River area," one boy said.
"How about closer to town? Like Ward Lake?" said Cloud. "You can see where beaver have been because they cut down the trees."
And, as the kids saw again on the way back to town, we've got plenty of whales.
The Allen Marine field trip was paid for through a grant from the National Park Foundation.