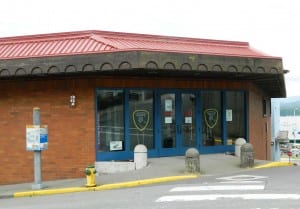 A body believed to be that of a missing Ketchikan man was found just before 11:00 Tuesday morning under the E.C. Phillips building on Tongass Avenue. Ketchikan Police Chief Alan Bengaard says the body was found by maintenance workers doing building repairs.
"At about 10:57 am today, the Ketchikan Police Department received a call of human remains being found under a building at 1775 Tongass Avenue. Officers responded, did in fact find human remains and collected those remains."
Bengaard says the body was likely carried to that location by recent high tides. He says a positive identification cannot be made until an autopsy is completed, but believes the remains are those of one the men who went missing in Ketchikan recently. Bengaard did not release information about the condition of the body other than to say it was clear the person had been dead for some time.
There are three recent open missing person cases in Ketchikan. 35-year-old Thomas William Booth went missing earlier this year on the afternoon of January 2nd. Booth went to run some errands and never returned. 69-year-old Gary Hamilton was reported missing on November 26th of last year. Few details are known about Hamilton's disappearance. Roy Banhart, 38 years old at the time of his disappearance, was last seen the morning of December 30, 2014 leaving the 49er Bar on Water Street.
Bengaard says the remains are being sent to the State Medical Examiner's Office in Anchorage for positive identification. He believes results will be available by next week.