A 23-year-old Ketchikan man has been charged with kidnapping and assault following an incident Monday at a home on Pine Street.
According to the complaint filed in court, police received a request for a welfare check on a woman at the residence who had been seen with injuries. The woman allegedly told family members she was not allowed to speak to them or leave the home.
Police say they found the door to the home locked and barricaded, and after repeatedly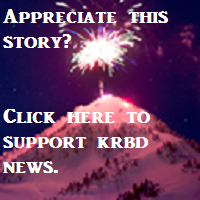 attempting to get someone to open the door, forced it open.
The defendant allegedly was found in the shower with the woman, who had significant injuries to her head, neck and face. Police say the woman also had ligature marks on her wrists, ankles and neck, along with bruising on her arms and legs.
According to the complaint, the woman told police that the defendant had restrained her over the past 24 hours following an argument, struck her with broken wooden chair legs, and shocked her with a Taser-style device . She told police that the man also punched her and choked her with his hands and a line.
The woman told police that when officers arrived, the defendant took her to the shower to wash the blood off.
The woman was taken to PeaceHealth Ketchikan Medical Center for treatment. According to the complaint, she was diagnosed with a skull fracture, bleeding in the brain and a broken jaw, along with other injuries. She was flown to Harborview Medical Center in Seattle, where she remains in the Intensive Care Unit.
The man faces five felony charges, according to the online Alaska Court System database: One count each of kidnapping and first-degree assault; and three counts of second-degree assault.
The man was scheduled to be arraigned Tuesday afternoon.
NOTE: KRBD has updated its policy regarding reports on criminal charges. In most cases, we no longer will identify a defendant until that defendant has been indicted by a Grand Jury.