The Ketchikan School Board will vote Wednesday on a grant proposal for a totem pole art project at Schoenbar Middle School.
The proposal calls for a cedar log to be transported to the art room at the school. The designer and supervising artist would rough out the pole using student drawings, and then would help the students to carve the pole.
The art room would be open on some evenings and weekends throughout the project for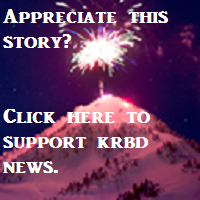 former students and community carvers to help with the pole, according to the proposal.
When completed, the pole would be raised outside the school with a traditional ceremony. A school-hosted potlatch would follow.
The overall project is expected to cost nearly $14,000. The grant application up for Board approval is for $6,000, and would be submitted to the Alaska State Council on the Arts and the Rasmuson Foundation. Additional funding would be sought from cruise lines and local businesses, according to the proposal.
Also Wednesday, the Board will vote on renewing non-tenured teaching contracts.
The meeting starts at 6 p.m. in Borough Assembly chambers. Public comment will be heard at the start and end of the meeting.