Nobody was injured when a floatplane flipped over yesterday in Jordan Lake, north of Ketchikan.
According to the online Alaska State Troopers dispatch, the accident was reported at about 2 p.m. Tuesday. The pilot, Billy Rusk of Illinois, was the only person on board.
Ketchikan Volunteer Rescue Squad was notified, and responded to the scene. The pilot was found wet and cold, but otherwise OK.
Jerry Kiffer of KVRS says Rusk was on an extended floatplane tour of Southeast Alaska, visiting U.S. Forest Service cabins. There is a cabin at Jordan Lake, along the Naha Trail.
Kiffer says the pilot had a personal locator beacon, and a family member was tracking Rusk as he traveled through the region.
"The aircraft flipped over in the water, in the lake, and he was able to get out of the aircraft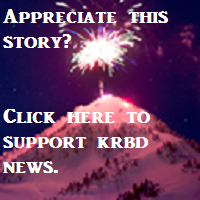 and send an SOS message utilizing the personal locator beacon," Kiffer said.
Kiffer says the family notified Alaska State Troopers that Rusk needed help.
After he was found, Rusk was taken to the nearby Heckman Lake cabin, and from there was transported to Ketchikan. According to the Troopers' report, he declined transport to the hospital for medical evaluation.
The National Transportation Safety Board has been notified of the incident.
According to the Tongass National Forest website, Jordan Lake is relatively small, and some floatplane pilots will not land there, choosing instead to land at Heckman Lake, about two miles away.