An equipment malfunction is creating serious delays at the Ketchikan International Airport security screening area.
Friday morning, Transportation Security Administration officials and Alaska Airlines announced that for the next few days, travelers should arrive at the airport three hours before their scheduled departure time to make sure they are able to get through screening in time to catch their flight.
Jeremiah Tucker is the local TSA manager. He said a part to fix the baggage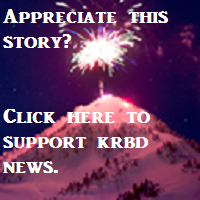 screening machine is on its way to Ketchikan. Until that part arrives and is installed, TSA officers will have to check passengers' carry-on luggage by hand.
Tucker said travelers should expect long, slow lines in the upstairs screening area.
"We're taking people one person at a time and individual officers are doing the bag searches," he said. "Things that can help is to come with as little as you can through the checkpoint. The more bags you have — the larger electronics — the more time your search is going to take."
Tucker said the walk-through screening machine is working, so that part of the security check is proceeding as normal.
He said the baggage-screening equipment should be fixed by Monday or Tuesday of next week, so Ketchikan residents who are traveling by plane through Tuesday should plan accordingly.