The Ketchikan Gateway Borough Assembly modified and then approved the Ketchikan School District and Ketchikan Gateway Borough budgets in second reading Monday.
Assembly Member John Harrington proposed two amendments to the approximately $40 million school district budget. The first would have increased the in-kind allocation of Gateway Aquatic Center costs to the school district. That amendment failed with only Harrington and Assembly Member Mike Painter voting yes.
Harrington's second proposal called for increasing the allocation of athletic fields to the school district. He argued that voting against increasing those allocations violates Assembly members' oaths of office.
"We are thumbing our noses at the rule of law in this state," he said. "We are required to give a fair market value for the services we provide to the school district. And then we proceed to not do that. I think at this point, going forward, this is not in any way conducive with our oath of office."
Harrington's second amendment passed 6-1 with only Assembly Member Bill Rotecki voting no. Assembly Member Glen Thompson says he believes that the school district uses the athletic fields quite a bit, but he doesn't think that swimming lessons account for 30 percent of the aquatic center, which is the level Harrington wanted in his first amendment.
In-kind services, also called contracted services, are provided by the borough and paid for by the borough. The allocation is an accounting method that has generated controversy over the past few years. School officials have argued that too much is allocated to schools, and that gives an inflated picture of what local education costs.
The overall school budget passed 5-2 with Harrington and Painter voting no.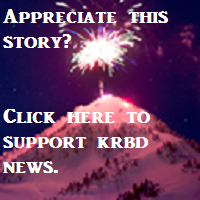 The approximately $53 million borough budget needed some adjusting after last week's decision by the Alaska Legislature's Conference Committee to withhold about $16 million in cruise head tax funds from coastal communities affected by cruise traffic. The borough's share of that was expected to be about $2 million.
Finance Director Cynna Gubatayao explained proposed changes to the CPV portion of the budget, which does have a fund balance that will allow some CPV-funded programs to continue for the short term.
"What we would suggest is operating the downtown shuttle through the balance of the cruise ship season, and then not start it again for the next cruise ship season unless we saw that we were getting funding," she said. "The same with the tourism compliance agents at Herring Cove and the downtown ambassador. And the Hopkins Alley projects – not proceeding with anything that's not already encumbered."
The borough also would not move forward with matching funds for new buses, partly because those buses are connected to the downtown shuttle service, and if that service goes away, the buses don't count as a tourism expense and aren't valid for CPV funding.
The Assembly voted unanimously to make those changes. Assembly Member Rotecki says he believes the state will eventually choose to reinstate the CPV-sharing program. He noted that the head taxes must go to expenses related to cruise passengers.
"Are they going to eliminate it? Are they going to hold onto it? What's going to happen there? It seems to me it has to go back to the communities that are visited by the cruise ships to be legal," he said.
In other budget action, Harrington proposed an amendment that would have removed grant funding through the economic development fund for a variety of community nonprofit agencies. He argued that the borough doesn't have social service powers, and it's improper for the borough to fund those agencies.
"I move to strike Big Brothers Big Sisters, the Boys (and Girls) Club, SAIL, WISH, Southeast Senior Services, Medical Services, Love In Action, Alaska Legal Services, Ketchikan Youth Court, First City Homeless and Ketchikan Wellness (Coalition)," he said.
The motion failed 3-4 with Harrington, Painter and Thompson voting yes.
The overall borough budget passed 6-1 with Painter voting no.
In other matters, the Assembly unanimously approved an ordinance that raises airport rates for after-hours services, and passes the cost of credit card fees to ferry passengers who use cards to pay the toll.