Recent wolf sightings in Ketchikan's North End area have prompted Alaska Department of Fish and Game to recommend that residents of that area keep a close eye on their pets, and secure any livestock.
State Wildlife Biologist Boyd Porter said one light-colored wolf was photographed in the Settlers Cove area, and he heard reports that the wolf didn't seem afraid of people.
A more recent incident involved a dark-colored wolf that got into a fight on Saturday with a dog.
"A young person went several houses down to take care of a dog he was dog-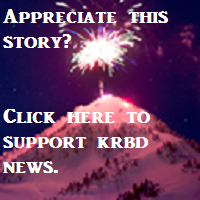 sitting, and noticed a wolf off in the distance at the edge of the property," Porter said. "The dog he was taking care of got off the leash and went after the wolf, and they got into an altercation."
Porter said even after the fight was over, the wolf stuck around. He said the young man called his dad, who came over with a pistol and shot at the wolf, but didn't hit it. The wolf left, and the dog was taken to a local veterinary clinic for treatment.
Porter said the wolves might be young wolves that have been kicked out of their packs, or are part of a pack that's moving through the area. He said the wolves may have been attracted by homes that have chickens and other livestock, but it's unusual for them to not be afraid of people.
Porter recommended that residents of the area – which is about Mile 12 to Settler's Cove — to take care, keep an eye on pets and don't let pets out at night. He also asked people to report any wolf sightings to the local Fish and Game office.