The Alaska Department of Fish and Game received numerous reports of wolf sightings in Ketchikan's North End area Tuesday morning.
Wildlife Conservation Program Technician Micah Sanguinetti says the wolves have been seen from the residential area around North Point Higgins Road to Settlers Cove.
He says most of the reports have been of a light-colored wolf, although there's at least one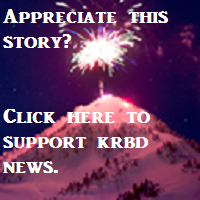 report of a dark wolf.
The dark one could be the same wolf that got into a fight with a dog on Saturday, prompting warnings for residents of that area to keep a close eye on their pets.
In an interview early Tuesday afternoon, Sanguinetti said that Wildlife Biologist Boyd Porter was out on the North End looking for the wolves. On Monday, Porter said they could be young wolves that had been kicked out of their pack, and were attracted by chickens and other livestock kept by people in the area.
Fish and Game is asking people to report wolf sightings. You can call the local office at 225-2475.