A body found last week in Ketchikan on the tideflats under a fish processing plant has been positively identified as 35-year-old Thomas Booth, who went missing in January.
Next of kin have been notified.
Ketchikan Police Chief Alan Bengaard said the state Medical Examiner conducted an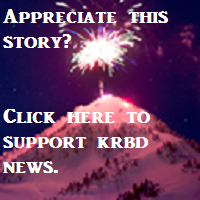 autopsy, and provided the identification on Monday.
"At this point in time, no cause or manner of death has been identified. It's to be determined," he said.
A toxicology report has been ordered, and it will take up to six weeks for results to come in. Bengaard said there was no evidence of foul play, and no signs of trauma to the body.
Booth has been missing for about five months.
"The last positive location we had him at was leaving Safeway. Been missing ever since. Then on May 10th, we had a report of a body being discovered under the building at 1775 Tongass Avenue, which is a tideflats area under the building," Bengaard said.
Booth's was one of three open missing-person cases in Ketchikan. Still missing are 69-year-old Gary Hamilton, last seen in late November; and 38-year-old Roy Banhart, who was last seen the morning of December 30th, 2014, leaving the 49er Bar on Water Street.