The Ketchikan City Council decided Thursday to move forward with a 5-percent additional sales tax for marijuana retail sales within city limits.
During public comment, Eric Riemer – who is in the process of getting permits for a retail marijuana store on Stedman Street – suggested a graduated tax that starts at a lower level initially and builds annually. He said that would help the new industry as it finds its footing.
Riemer added that that the proceeds of such a tax should go toward public education. He specifically talked about extra-curricular activities that often face cuts when the school district is looking at tight budgets.
"We have a duty to our young people, to allow them to have these opportunities to travel around the state. To have extra-curricular activities," he said. "And I think that money that cannabis tourism brings in would be perfect to dedicate to that use."
Also during public comment, Spencer Strassburg – who has been a vocal supporter of marijuana businesses in the city – expressed reservations about the location of Reimer's planned store. He said the core tourism area is too sensitive for pot shops.
"I can see the tour bus now, riding by and saying, 'You can get your weed right over there
and right across the crick is the whore-house right there,'" he said. "And I can start to see
the conservative people start going, 'Oh, I know what part of town that is. And honey, we're going to go somewhere else.' That would be my big concern."
The proposed store on Stedman Street is close to historic Creek Street, a boardwalk street that was Ketchikan's infamous red-light district for many years. It's now a popular destination for tourists, with many of the former brothels now offering trinkets, T-shirts and art.
During the Council's last meeting, Council members voted to not oppose the proposed marijuana retail store, which also would provide a space for people to consume marijuana on-site.
During Council discussion of the pot tax, there was general agreement on a 5-percent tax – not graduated – with proceeds going into the general fund.  The Council directed city management to come back with an ordinance to that effect for the next regular meeting.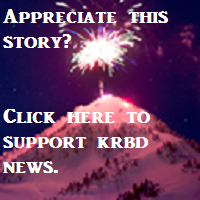 Also during public comment, the Council heard from several harbor users who are unhappy with new regulations related to people who live on board their boats.
Marie Zellmer said the regulations regarding waste management systems don't allow enough time for boat owners to comply and are a privacy concern.
She said harbormasters do not have the right to board her boat – which is her home – to inspect her waste system.
"Yes, they can check to see we have the proper facilities," she said. "If they think we're outputting into the harbor, they can ask us to run our facilities from the outside. But I don't want them coming in. Even the harbormasters who are my friends, I don't want them coming in unless I choose to."
The Council took no action on the issue, but recommended that Zellmer take her concerns to the city Port and Harbors Advisory Board.
Also last night, the Council unanimously approved a new contract for Ketchikan Public Utilities employees represented by the International Brotherhood of Electrical Workers. The previous contract expired at the end of 2014.
The Council's next regular meeting is June 2.