Ketchikan's Library Director Linda Lyshol has submitted her letter of resignation. It was announced during Thursday's Ketchikan City Council meeting by Assistant City Manager David Martin:
"Earlier this week, we did receive the resignation of our Library Director Linda Lyshol, effective June 10th," he said. "So, we will soon be starting recruitment for that position."
Council Member Judy Zenge wanted a little more information about the recruitment process.
"I'm assuming that we're going to look within the city first to replace that position?" Zenge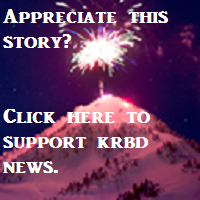 asked.
"We'll be looking internally and probably externally as well," Martin replied.
"We're not going to go out and hire a head hunter again? Does that come to us?" Zenge said.
Mayor Lew Williams III responded:  "We have to approve a head-hunter."
Last year, after two city positions remained vacant for a long time, the city eventually hired a recruitment company to fill those jobs. The Council does have to approve that additional expense.
Lyshol has been the city's library director since 2011. She replaced longtime Library Director Judith McQuerry.