Ketchikan's Library Director Linda Lyshol is moving on to a new job as library director of the Branch District Library in southern Michigan, starting in just a few weeks.
Branch County, Michigan, is just north of the Indiana border. Lyshol says that library system has satellites in different parts of the county.
"The largest is in Coldwater, which is the county seat. And the smallest one is in the community of Algansee, which is an Amish community," she said. "It's a very charming one-room library attached to the general store, and there is a hitching post out in front for the buggies."
Lyshol says the area is rural, but also has a growing industrial sector. She says the library there has its own governing board, which was part of the attraction.
"I ascribe to the tenants of the American Library Association, one of which is lifelong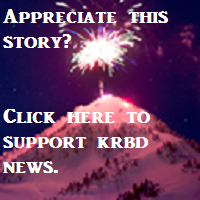 learning," she said. "So, for me, there are things I want to learn. One of them was how to build a library, so I've done that. The other is how to work with a governing board."
The governing board is kind of like working with the Ketchikan City Council, but the board will be solely focused on the library. Lyshol says she also was interested in working for a library with smaller branches, to make good use of her soon-to-be-complete Masters of Public Administration degree.
Lyshol, who came to Ketchikan in 2011, says another reason is that her husband, Mike Lyshol, plans to retire, and it was a good time to make a change.
Lyshol says she will take fond memories of Ketchikan's library with her. She says she's still impressed with the beauty of the building, which opened in 2013, and is still amazed at how smoothly things ran when they moved more than 80,000 collection items into it from the downtown site.
"But I have to say that the thing I'm most proud of is the fact that, when people come to the library and visit — they may comment on how beautiful it is — but the comments I really cherish is: 'You have a wonderful staff,'" she said.
Lyshol says the staff is the most important aspect of any library, and she has tried to be supportive of library employees.
Apart from her job, Lyshol says she'll miss the community, Ketchikan's Fourth of July celebration, Southeast Alaska's scenery and fresh seafood.
"I can't imagine buying fish at the grocery store, knowing what I know now about salmon," she said, laughing. "I'll be grilling the shopkeeper: 'Tell me exactly where this fish was caught.'"
Although she's leaving, Lyshol wants to make sure Ketchikan's library is placed in good hands. She hopes that the city chooses a new library director with a library science degree. That, she says, most likely would mean looking outside the community.
"They might find it in Alaska, because there are a lot of really good librarians in Alaska," she said. "But I hope they are wise about how they choose someone. Because it's such a fantastic resource for the community and it needs to have a good leader."
Lyshol's last day is June 10.