KRBD Rainbird Community Radio in Ketchikan celebrated its 40th birthday over the weekend. The anniversary party incorporated the station's annual "Live Day," a day where everything is read or performed live on the air.
Helping with the celebration was a group of former KRBD employees and volunteer DJs who had moved away, but returned for a radio-style reunion. Hosting the first two hours of Live Day was Josh "Coyote Man" Albright, a volunteer from the mid-80s. He brought his own memories, and arranged for other veteran KRBD contributors to share theirs, in person and over the phone, along with performances from a variety of local musicians.
KRBD's Leila Kheiry compiled the following audio postcard, showcasing just a few of the highlights from Saturday's six-hour, on-air birthday party.
In addition to former volunteer DJ Josh Albright, you heard from KRBD founder Richard
Yospin, former KRBD news directors Will Selzer and Terry Miller; former KRBD engineer Chuck Lakaytis; and former volunteer coordinator Diane Gladu.
Local performers included were Stephanie Patton and friends, The Free Radicals, Ketchikan Community Children's Choir, the Sea Strummers, Sharolyn Kroscavage and Niles Corporon; Sitka Tex; and Samantha Wodehouse.
KRBD's birthday weekend included a party at Ketchikan's Arctic Bar, featuring local band The Ratfish Wranglers; and a special Monthly Grind, hosted by KRBD staff and board members.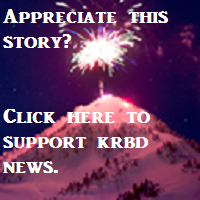 Rainbird Community Radio first went live on the air on May 22, 1976, when Tom Miller played "The Fool" by Quicksilver Messenger Service.