An Alaska Airlines executive gave some details during Wednesday's Chamber of Commerce lunch about the company's recently announced merger with Virgin Air.
Director of Sales and Community Marketing Scott Habberstad, who is a former Ketchikan resident, also stressed that while Alaska Airlines might consider it in the future, there are no plans to let dogs earn miles for their people. At least not yet.
He said that's a question he hears a lot.
"That's the number-one question we get: 'When is my animal gonna start getting miles?'" he said. "We've looked at it multiple times and it's something we'll continue looking at, because I know the question's going to keep coming up, but it's nothing that's in the pipes."
Habberstad gave an overview of Alaska Airlines, which annually earns about $5 billion and serves about 32 million passengers. They expect to add another 7 million customers after the merger with Virgin is finalized, hopefully by 2018.
Habberstad said the merger will add only a couple more destinations to Alaska Airlines' current list, but it expands other opportunities.
"So, today we go to the East Coast from Portland and Seattle," he said. "Tomorrow, we'll go to the East Coast from Portland, Seattle, San Francisco and LA. To all the same places we're already serving out of Portland and Seattle, which increases our network significantly, and adds a great deal of efficiency."
The merger still has to go through various approvals, but Habberstad said there's no reason for it to not succeed. Once it does, he said Virgin will become Alaska Airlines.
Alaska, though, will look at Virgin's business practices, to see what could and should be retained.
"Virgin is different. It's an experience. You board listening to Beyoncé," he said. "It's got purple mood lighting in the airplanes. It's a different experience, but it's a good experience. It's fresher, it's new. While I don't think you'll board to Beyoncé on us in the future, there might be a little bit of an uptick: A little fresher brand coming from us."
Virgin also comes with a fleet of Airbus planes, which is different from Alaska Airlines' fleet of Boeing aircraft. Habberstad said that the Virgin fleet is mostly leased, which will give Alaska Airlines a chance to try them out and decide whether to keep them.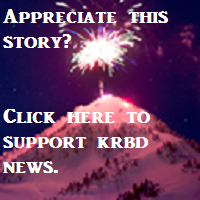 In response to a question from the audience, Habberstad talked a little about Alaska Airlines' competition with Delta, which also is a partner airline. Delta has expanded its presence in Seattle, which is Alaska Airlines' base, and is offering seasonal flights to some Alaska destinations that traditionally have been served only by Alaska Airlines.
Habberstad said Delta is a good partner and a good competitor. Despite the competition, he said Alaska has held onto its share of the Seattle market, and will strengthen that position after the Virgin merger.
Habberstad added that the company is expanding its international partnerships, as well.