Family and friends gathered in the Kayhi Gym Sunday to celebrate Ketchikan High School's graduating class of 2016.  More than 125 students were honored.
As the Kayhi Wind Ensemble played Edward Elgar's "Fanfare and Processional", graduating seniors walked double-file into the Clarke Cochrane gymnasium to receive their diplomas.
Senior class president Sylvan Blankenship spoke about the accomplishments of the senior class and acknowledged family, friends and teachers who helped students achieve their goals. He became emotional several times during his speech and thanked the class of 2016 for allowing him to serve as president.
Graduating senior Megan Daugherty sang "Beyond the Sea."
Salutatorian Bernadette Franulovich compared the challenges of a man who fell down a 70-foot waterfall and survived with their high school career.
"You can stay in focus and in control, survive it and come out stronger, which is what we have done. We have unique experiences that shaped us to become who we are today and taught us the essential skills we'll need next year."
Franulovich says the seniors can survive whatever challenges face them, be it college, trade school, work or wherever they are led.
Valedictorian Kiera O'Brien says she's spent her entire life in Ketchikan and calls it home. Applying for college, O'Brien says she wrote about the community, describing it as cold, wet and isolated; but also wild, beautiful and familiar. She says she likes familiar, but graduation is the next step to moving forward."
"We'll be moving from the familiar life of high school and headed off to college, to vocational school, to the workforce or out into the world. I'm a firm believer that the environment where you live shapes who you are and who you will become. Though this group of 126 graduates will likely never all be in the same place at the same time again, we will carry our experiences here with us wherever life takes us."
US Senator Lisa Murkowski provided the commencement speech. Murkowski was born in Ketchikan and both of her parents are Kayhi graduates. She focused her speech on the Kayhi Class of 2016's motto "Do not go where the path may lead; go instead where there is no path and leave a trail," a quote by Ralph Waldo Emerson. Murkowski says in the United States Senate, new trails are being made, though the path is not always easy. She used the example of efforts to pass a comprehensive energy policy.
"So what we're trying to do is not only change a policy, but help benefit, help make a difference in the lives of Alaskans. So that's a trail that we're blazing."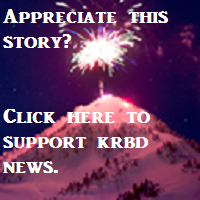 Murkowski says while it may seem everyone will work together to achieve a common goal, there are challenging days. She says many life lessons can be learned from the process of trying to pass legislation. One of those lessons is, as an Alaskan, there is nothing you can't achieve.
"I didn't graduate from Kayhi, but I was born here. Somehow or another, I made it out to be a Senator. So don't ever think because you come from a small town in a small-populated state that you're limited. There's no limit."
She says the second lesson is that you never finish learning, whether a deckhand or a Senator.
"So we learn by paying attention. We grow by being engaged. And the sooner that you embrace that, the sooner you do that and realize that education every day is what is going to enrich you forever, you're money ahead."
Murkowski says the third life lesson is to be bold, persistent and confident. She also says life begins at the edge of your comfort zone.
"Which means, you have to push the boundaries. You have to know what you want, you can't be afraid to go after it, even if that means breaking outside of your comfort zone."
She says the most important lesson is that there is a limit to the power of any one person, and encouraged the graduates to be partners in the future of the State of Alaska. Murkowski says what is needed is something that can't be legislated.
"It's a type of energy that we can't drill from a well, we can't harness from a turbine or a solar panel. It's the energy that you bring to the table through the enthusiasm that you have, through your creative, through your ideas and through your spirit."
She advised the graduates to go forward with confidence and a sense of purpose and to never forget where they came from – Ketchikan, Alaska.
Murkowski presented a US flag that had flow over the Capitol to Principal Robert Marshall to fly at Kayhi.
Before the presentation of diplomas, School Superintendent Robert Boyle  asked Marshall if students had met all of the qualifications necessary for graduation.
"I certify that the students you see before you – the Class of 2016 – have fulfilled all of their requirements for graduation and are eligible for their high school diplomas."
The name of each graduate was read to applause and cheers.  School Board President Michelle O'Brien and several faculty members presented awards and diplomas.
Tassels were then turned, and the Kayhi class of 2016 officially became alumi.
Following is Senator Murkowski's full commencement speech.