An independent, a Republican and a Constitution Party member are competing for Ketchikan's seat in Alaska's House of Representatives. District 36 also includes Saxman, Wrangell, Metlakatla, Hydaburg and Hyder.
In many ways, this race is all about parties.
First, there's incumbent Rep. Dan Ortiz, a retired high school teacher. He's been a Republican and a Democrat. But when he ran for office two years ago, he did it without a party affiliation.
"Part of my being an independent has always been and continues to be the conviction that partisan politics often does not advance the best interests of the people and often times becomes more about the interests of the party, than the people," he said.
Ortiz caucused this session with the Democratic-led House Minority, which changed its name to accommodate his independent stance.
One challenger, Republican Bob Sivertsen, said that's a serious problem.
"Being affiliated with the minority, I don't believe that it gives our district the best voice. I think that it's important that we're in the room for the discussions, even though we're just one vote on the House floor. There's a lot of things that are done off of the floor," he said.
The other challenger, Ken Shaw, said it's time to move away from Democrats and Republicans. He used to be one of the latter, but not anymore.
"The Republican Party I just don't feel is doing enough. It's not doing its job and it's gotten away from the Constitution in so many areas that I'm just done with it," he said.
Shaw, a carpenter who's homeschooling his children, is a candidate of the Alaska Constitution Party. It's an affiliate of a national group with a presidential candidate.
He said the party is about smaller government and getting back to the basics, including the U.S. and Alaska constitutions.
"Now, I hear a lot of people saying it's all outdated and we're beyond that. That's nonsense, in my opinion. I think we need to get back to it a little bit," he said.
Republican Sivertsen said his party is on track to solving Alaska's problems, including the budget.
The retired city worker and council member said Ketchikan and other communities in the House district would do better with his experience – and affiliation.
"I think that being the only candidate going into the primary and getting the support of the Republican Party is an important factor. And focusing on the issues of the state and working through those as a Republican, I think, is a more important issue," he said.
But incumbent Ortiz said he's been a successful representative, even while in the minority.
He cites recent budget victories, such as restoring cruise-ship head tax revenues to Ketchikan and other port cities.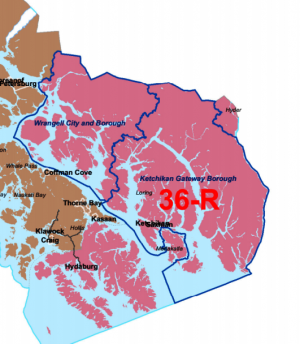 And he said his independent stance put him in line with a powerful, like-minded politician. That's Gov. Bill Walker, whose administration agreed to dedicate money originally set aside for the controversial Gravina Island Bridge.
"I'd like to think it's more than just a coincidence that that issue has been put to rest with this governor. In cooperation with myself, we were able to secure those monies and to make sure that those monies stayed in the Ketchikan community," he said.
As a Republican, Sivertsen will be the only candidate on August's primary ballot.
As an independent, Ortiz bypasses that election. And since Shaw's Constitution Party has no primary, all three will go before voters in November's general election.