Not too many people like to go for a swim in the chilling open waters of Southeast Alaska. But, Ketchikan's Britta Adams braved the cold ocean and strong tides recently to swim more than 10 miles of the rocky Wrangell Narrows.
Britta Adams loves to swim, and has been a swimmer most of her life. She grew up in Ketchikan, competed on school swim teams, and now works at the pool – teaching future swimmers.
Adams likes to swim in the ocean, too, so every now and then she'll go out on the boat with her husband, Mark, and slip into the water. But, her recent ocean swim was a lot more than an afternoon jaunt.
Adams decided earlier this year to challenge herself by swimming through the Wrangell Narrows.
"I came to my husband and put it on the table and he gave me this look, like 'What? Are you kidding me?'" she said, laughing. "I just (was) like, 'OK, let's break it down. Is this even possible, logistically?"
Starting in February, they began their research: consulting charts, talking with the U.S. Coast Guard and boaters who know the area; and getting a lot of advice from former Alaska Marine Highway System Capt. William Hopkins, who wrote a book about navigating that treacherous body of water.
"He took me through the chart step by step and told me where the eddies were – all the
knowledge that he had," Adams said.
In March, Adams and her husband made a decision.
"At a neap tide – a small tide — on the right day, with the right weather and the right winds, it is possible," she said.
So, after signing up Mike Schuler as Adams' kayak guide for the trip, they committed. She swam with him as a guide before during Ketchikan's Pennock Island challenge – where swimmers take a lap around Pennock Island in the Tongass Narrows.
Adams said getting the right kayak guide is critical.
"In my experience, I just get in the zone and I get tired and start losing my ability to focus. I just swim straight and he really takes care of me in the water," she said.
From his kayak, Schuler has a better view what's coming up, Adams said, and he is able to steer her around difficult areas. Schuler also stores Adams' snacks and water, which she needs about every 30 minutes during an ocean swim.
So, with her in the water, Schuler in the kayak and Mark in the boat, the crew was set. All they needed was the right day, which required more than just a small tide and decent weather.
"Timing it with the ferry schedule and the commercial crab fishery started the next day," she said. "There was a lot to go in to making this – June 14 was the day. If it wasn't going to happen on that day, it wasn't going to happen."
As they boated north from Ketchikan the day before, Adams said they spotted a double-rainbow in the sky – a good omen. And, when the tide swung the next morning at 4:15 a.m., she jumped into the Wrangell Narrows' 48-degree water.
She wore two wetsuits, two pairs of booties, gloves and a cap
"But still, the first 15 minutes is hard. It's cold. My teeth hurt, it's so cold. My face hurt," she said. "But then I numbed out. And then, it takes me a good half hour (to) 45 minutes to relax and then my stroke does all the work. So I was able to relax, but then an hour in, we hit heavy fog."
So heavy, Adams said she couldn't see the shoreline, which she knew was close.
"I was uncomfortable and I remember raising my head up out of the water and saying, 'I am concerned,'" she said. "And then Mark, my husband on the boat, and Mike the kayaker just looked at me and said, 'We've got you.'"
Adams said her husband guided them through the fog on instruments, and about an hour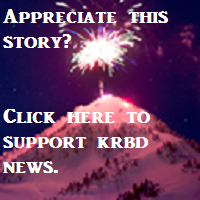 later, the fog lifted right around Blind Slough.
"I'm really glad the fog lifted right before then because that area is really tight quarters," she said. "We refer to it as 'Pinball Alley.'"
It got that nickname because of all the hazard markers boaters thread their way through to safely navigate the section of water.
Adams said those markers helped her stay focused, giving her mini goals as she worked toward the big goal of Marker 50.
"Swimming next to and passing those big markers was a pretty neat experience," she said. "Being in the water and looking up at these ginormous markers. It's just neat."
Adams said she got so many "are you crazy?" looks when she told people she planned to swim the Wrangell Narrows that she questioned whether she should go through with it. Now that it's done, she said, she's thrilled to have accomplished this challenge, with the help of her husband and Schuler.
"We got to experience something great," she said. "And the fact that it's never been done before – well, we don't think it's ever been accomplished before – doing that together, it's pretty amazing."
Now that her big challenge is done, Adams plans to relax. And, after training most of the winter, she deserves it.
"You know, I'm just going to have a good summer. I'm not going to train this summer," she said. "I'm gonna have a great time swimming for fun and paddleboarding and enjoying the ocean. And we'll see what comes next."
Adams swam the 10.5 miles between Marker 1 and Marker 50 in about four hours.