Signing up to be an organ donor in Alaska is easy. You can register when you get your driver's license or sign up through the Alaska Donor Registry.  But what does it mean to be an organ donor and what exactly are you agreeing to? Organ and tissue donation was discussed during presentations in Ketchikan this week.
Donna Brahaney with Life Alaska Donor Services says more than 100,000 people in the United States are waiting for organ transplants and 22 of those people die each day. Her organization's mission is to increase donations, and provide support to families who have experienced the loss of a loved one.
Brahaney says a single organ-and-tissue donor has the potential to help or save over 100 people. Organs and tissues that can be donated include the heart, lungs, liver, kidneys, veins, corneas, bones, connective tissue, skin and more.
Brahaney says more than 86 percent of all licensed Alaska drivers are registered organ donors. When you register through the Department of Motor Vehicles, you agree to donate all organs and tissues for transplant or research, but Brahaney says you can change that.
"If you, for some reason, don't want us to recover your corneas, you can be explicit and say, 'I do not want my corneas recovered.' If you don't want your tissue to be used for medical education or research purposes, you can specify that and we are not allowed to do that."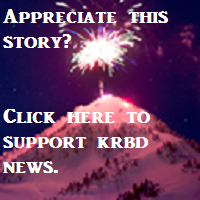 To make changes, log on to the Alaska Donor Registry and log-in to the system through your MyAlaska account, the same used to sign up for the Permanent Fund Dividend. Brahaney says you can make changes as often as you wish and even opt out.
Brahaney says some are reluctant to sign up out of concern that doctors or EMTs won't try to save you if you have a heart symbol on your driver's license, a sign you're a registered donor.
"Honestly, they're not looking at that when you come in. Their main objective, their job, is to save and preserve life."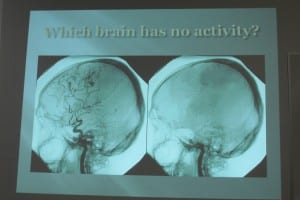 She says doctors don't have access to the donor registry, and it's not something they would consider while trying to save a patient.
Brahaney says some think they can't be donors because of their age. But anyone can be an organ and tissue donor, regardless of age or health.
"That's why we say 'You're never too old to register.' If you want to be a donor, register, because what might be a cut-off age for something today, tomorrow is fine. The oldest organ donor was 92-years-old, so it's really never too late."
She read a letter from a mother, who never imagined her child might die before her. The parents, both registered organ donors, decided to donate their son's organs and tissues when he died at 76 days old.
"Days before Christmas we found out that William lives on through a little girl who received a valve. As a grieving mother and family, this is all that we wanted. He, in his short life, served a greater good. Thank you for your support. I understand it's a personal choice to donate or not. In our case, I feel as if it would have been a double-tragedy not to."
Brahaney says these stories always make her emotional, and she understands it's a difficult decision, especially when dealing with the death of a child.
"I remember talking to one father and him saying, 'I just don't think I can decide.' All I could say was, 'I understand.' Even if you don't have kids I can't even imagine thinking about trying to make that decision for someone…with a baby."
Brahaney says whether you choose to be an organ donor or not, it's important to let your family know your wishes.
"Even if it's a 'no,' be sure they know so they're not left making that decision or unsure.  Always what your family wants to do is what you would have wanted. It's one thing they have control over at a time when they've lost all control."
It helps make a difficult time less challenging for loved ones.
Alaska Donor Registry: https://alaskadonorregistry.org/ADRPublic/
Life Alaska: http://www.lifealaska.org/